×
remind me tomorrow
remind me next week
never remind me
Subscribe to the ANN Newsletter • Wake up every Sunday to a curated list of ANN's most interesting posts of the week.
read more
News

America's 2009 Anime Market Pegged at US$2.741 Billion

posted on by Egan Loo
DVD sales dropped from US$306 million in 2009 to US$200 million in 2010
---


The Japan External Trade Organization (JETRO), a group affiliated with the Japanese government, reported in its April 13 "State of the Content Market in America 2010-2011" white paper that the anime-related market in the region was worth an estimated US$2.741 billion (about 257 billion yen) in 2009. Wowmax Media used data from NPD, Nielsen VideoScan, ICv2, and Box Office Mojo in compiling the statistics that JETRO posted. Wowmax Media does not have an estimate for the sale of character goods in 2010, so it does not have a full estimate for the anime-related market for last year.
The anime-related market in North America was reportedly at its largest in 2003, when it stood at US$4.84 billion. The 2009 figure was over 43% smaller. Of that US$2.741 billion in 2009, character goods made up US$2.420 billion, while DVDs accounted for US$306 million. According to NPD's retail tracking data, about 60% of the anime characters goods market in the United States belongs to Pokémon-related items.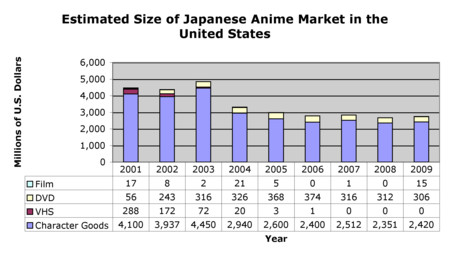 Home Video
The anime home video market in North America peaked in 2002 when it rose to US$415 million, and then slipped to US$371 million in 2005. It dropped further to US$306 million in 2009 and then to US$200 million in 2010. That represents a 35% drop between 2009 and 2010, and a 46% drop in the five years between 2005 and 2010.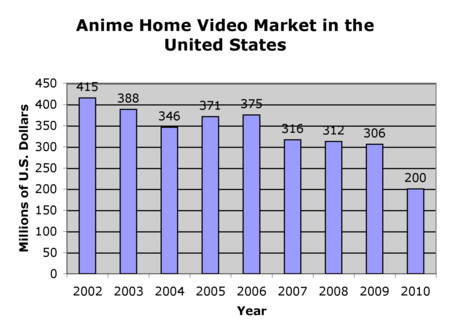 Wowmax Media listed the top 10 anime-related DVD titles by copies sold in 2008 and 2009, based on data from Nielsen Video Scan and ICv2:
2008
2009
* Ratio of sales compared to the sales of the #1 title (100)
According to Nielsen VideoScan and ICv2, the various distributors split the anime DVD market in the following way:
Television
There were 630 minutes of anime on over-the-air broadcast television in the month of March of 2010, 2.1 times more than the 300 minutes of anime in the same month in 2007. However, the amount of cable television time devoted to anime dropped from 11,063 minutes in March of 2007 to 5,812 minutes in March of 2010.
The Hub
, a new channel established by the
Discovery Channel
's parent company and the
Hasbro
toy company, did
debut
last October as another venue for anime programming.
Film
From 2006 to 2008, the annual box office for anime films was 1 million U.S. dollars or less. 2009 had two prominent anime films,
Ponyo
and
Evangelion: 1.0 You Are (Not) Alone
, that
earned
US$15.1 million and US$108,000, respectively. However, both were overshadowed by American animated films such as Pixar's Up, which earned US$293 million. Anime films made less than US$1 million at the American box office in 2010.
Manga
JETRO also posted Wowmax Media's data for the manga market in the United States, based on data from ICv2 and Nielsen BookScan: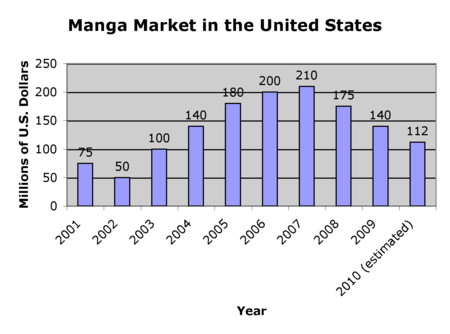 While the manga market shrank in North America, the digital comic market (including both Japanese manga and domestic comic books/graphic novels) has been growing. JETRO estimates that the digital comic market grew from US$500,000-US$1 milllion in 2009 (according to ICv2) to US$6-8 million in 2010. JETRO indicates that the
Apple
iPhone played a role in the increase. In Japan, digital books for mobile phones, including comics, make up 89% of the electronic book market.
Source: animeanime.biz
Update: Units in March 2007 television comparison fixed. Thanks, writerpatrick.
---
follow-up of
N. America's 2007 Anime Market Pegged at US$2.8 Billion (Update 3)