News

Siren Visual Acquires Three New Titles.

posted on by Jon Hayward
New acquisitions are announced through Facebook, include Intrigue in the Bakumatsu, Mawaru Penguindrum and The Book Of Bantorra;
---
These three titles follow on from Siren Visual's acquisition of Ayakashi: Samurai Horror Tales last week. No further information on these titles is currently avaliable, including type of release (DVD and/or Blu-Ray) and release dates.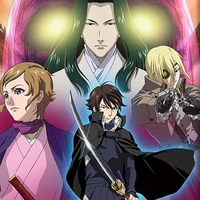 Intrigue in the Bakumatsu - Irohanihoheto
Set in the Bakumatsu era, the Shogunate is in its final years and war is fast approaching. When Yōjirō Akizuki (Daisuke Namikawa), a dark and mysterious mercenary, nears something supernatural with some kind of importance to him, the ornament on the end of his sword hilt waves in its direction, his eyes glow mysteriously, and he is driven to go after it. He comes across a traveling theater group who is out for revenge for the killing of the parents of the group's leader and whose mysterious playwright likes to secretly help along events of history. Yōjirō joins them to lend them his skill against their enemies, while dark conspiracy continues to follow behind him.
Created and directed by Ryousuke Takahashi (Armored Trooper Votoms, Blue Gender) alongside Hajime Tatate (Argento Soma, Mobile Suit Gundam) with character designs by Yuusuke Kozaki (Speed Grapher, No More Heroes). The series was produced by Bandai Visual and Sunrise in 2006 and ran for 26 episodes.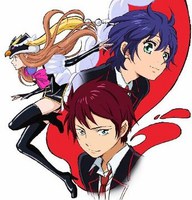 Mawaru Penguindrum
The story centers around three siblings, twins Kanba and Shouma, and their ill sister, Himari Takakura. Himari passes away after going out on a trip with her brothers but is soon miraculously brought back to life by a spirit thriving in a penguin-shaped hat. In return for her extended life, the twins must search for an item known as the Penguin Drum with the aid of three penguins which are visible only to the siblings.
Mawaru Penguindrum is Kunihiko Ikuhara's first major work since directing Revolutionary Girl Utena: The Movie in 1999, he is known for his run on the Sailor Moon anime and later responsible for Revolutionary Girl Utena. In the last decade he has worked on only a few anime projects. Notably, he storyboarded episode 2 of Gunbuster 2, storyboarded and directed the opening sequence for Nodame Cantabile, storyboarded the 29th episode of Soul Eater and storyboarded the opening sequence for Sweet Blue Flowers (Aoi Hana).
The series was released in 2011, runs for 24 episodes and was produced by Brains Base. Lily Hoshino provided the original character design and Yukari Hashimoto (Sankarea, Toradora!) handled the music.

The Book of Bantorra
Based on Ishio Yamagata's original Tatakau Shisho series of light novels, all the dead people of the world have been turned into "books" stored in the Bantorra library. The library is maintained by Armed Librarians who wield psychic powers and their enemy is a religious society known as Sindeki Kyōdan. A boy named Colio (Miyu Irino) has had his memories erased and his chest embedded with a bomb. He is sent to kill Hamutz Meseta (Romi Park), the world's most powerful armed librarian. However, he falls in love at first sight with this beautiful woman in charge of the "books," and he gets enveloped in the great war over the library.
Toshiya Shinohara (Kuroshitsuji, Inuyasha movies) directed the animators at David Production. Mari Okada (Kuroshitsuji, CANAAN) supervised the scripts, and Masaki Yamada (Appleseed movies, Bubblegum Crisis: Tokyo 2040) designed the characters. Other cast members in the series include Akira Ishida, Ayako Kawasumi, Haruka Tomatsu, Hirofumi Nojima, Kenta Miyake, Miyu Irino, Miyuki Sawashiro, Ryotaro Okiayu, Toru Ohkawa, and Yūichi Nakamura.
Source: Siren Visual Website and one of three facebook news posts.
---