News

USHPA To Release Bludgeoning Angel Dokuro-chan and Ergo Proxy in Australia

posted on by Jon Hayward
---
USHPA will release the following titles on the 5th of December 2013;
Bludgeoning Angel Dokuro-chan: DVD release two discs with both the English dub and Japanese audio and subtitles.
Shakugan no Shana Season 3: Blu-ray and DVD combo pack, will be broken into Part 1 and Part 2 with each part containing 12 episodes each over four discs.
Shakugan no Shana The Movie: Blu-ray and DVD combo pack, will come with two discs.
Ergo Proxy: DVD release two discs with English and Japanese.
The above titles join Universal Sony Home Pictures Australia's other titles including the first two seasons of Shakugan no Shana, A Certain Magical Index, A Certain Scientific Railgun, Serial Experiments Lain , Haibane Renmei and Texhnolyze that were released earlier in the year.

Shakugan no Shana III (Final)
High school student Sakai Yuuji is suddenly drawn into a age-old conflict between the forces of balance and inbalance when he encounters a "Guze no Tomogara", creature from another world. He is defenseless against the monster's attack but Yuuji is saved by a sword-wielding girl with flaming red eyes and hair known as a "Flame Haze", a hunter of the Tomogara. Sakai befriends and names the girl "Shana" and joins her in the fight against the Tomogara.
Now in season three, Shana goes into her final battle between the human world and the supernatural. However as Yuuji has disappeared, Shana's fight will be all the more difficult as the Crimson Denizens plan to bring peace to the universe.
Shakugan no Shana is based on the light novel series written by Yashichiro Takahashi with illustrations by Noizi Ito (illustrator on (The) Melancholy of Haruhi Suzumiya light novels). The series was published by ASCII Media Works between November 2002 and November 2012 and published a total of 26 light novels in the series. This was then adapted into a television anime series which ran for three seasons of twenty four episodes each, two original video animations for a total of five episodes, an animated film and four specials. All three seasons are produced at J.C. Staff under direction from Takashi Watanabe (Slayers, Ikki Tousen) with series composition and scripts by Yasuko Kobayashi (Claymore, Casshern Sins). Art direction on the series came from Shin Okui (Genshiken) with animation director Mai Otsuka (Astarotte's Toy) working on the character designs and Kô Ôtani (Eyeshield 21) providing the music.
The Japanese dub has Rie Kugimiya (Alphonse Elric in Fullmetal Alchemist) voicing Shana and Satoshi Hino (Saito Hiraga in The Familiar of Zero) as Yuuji Sakai with Kristian Ayre voicing Yuji Sakai and Tabitha St. Germain (Rarity in My Little Pony: Friendship is Magic) voicing Shana in the English dub.
Shakugan no Shana was originally released in North American by Genon but when they withdrew from the market Funimation took over production and release of the series. The first season and OVA have been previously released in Australia by Madman Entertainment.
USHPA have previously released Seasons 1 and 2 of Shakugan no Shana and the OAV collection Shakugan no Shana S over the course of this year.

Shana's sole purpose is to fight demons that consume human lives, when Shana cuts down High school student Sakai Yuuji his life is forever changed as he discovers the truth of his life and the reality around him.
Shakugan no Shana (movie) is an alternate retelling of the first chapter of Shakugan no Shana. This 2007 film was created by the same creative team behind J.C.Staff's anime adaptation with director Takashi Watanabe (Slayers, Ikki Tousen) working from screenplay by Yasuko Kobayashi (Claymore, Casshern Sins), art direction by Shin Okui (Genshiken) and animation direction and character design by Mai Otsuka (Astarotte's Toy). Shakugan no Shana The Movie has been released in the United States by Funimation.

Ergo Proxy
In the domed city of Romdeau the remnants of humanity live peacefully alongside androids called AutoReivs in a society where their very reason for living is managed by the government. When murders are suddenly committed by AutoReivs infected with the Cognito virus, detective Re-l Mayer is assigned to investigate with her AutoReiv partner Iggy. However Re-l starts to uncover the existence of powerful beings known as Proxies who seem to be connected with the domed cities and humanities ongoing survival.
This anime was produced by Manglobe who started with a rough outline for a future detective thriller and approached director Shukou Murase (Witch Hunter Robin) to further flesh out the 13 episode series. Murase was joined by Dai Sato (Cowboy Bebop, Eureka Seven) who wrote the screenplay, character designs by Naoyuki Onda (Gantz, Blassreiter) and Music by Yoshihiro Ike (Tiger & Bunny).
Ergo Proxy was originally released in Japan on pay-tv network WOWOW from February 2006. Genon Entertainment originally distributed the title from November 2006 but gave the distribution to Funimation as part of a distribution agreement in July 2008. However from March this year Funimation fully licensed and re-released the series in North America under their Anime Classics label. Madman Entertainment originally released Ergo Proxy in Australia in 2007 and aired the series on ABC2 later in the year.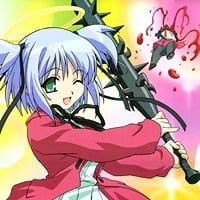 Bludgeoning Angel Dokuro-chan
Twenty years in the future, Sakura Kusakabe creates technology that forces all women to stop aging at the age of 12. God refuses to allow this as Sakura accidentally created a perverted form of immortality and decides to send Dokuro Mitsukai, an assassin angel back to Sakura's high-school days to stop him, permanently. However Dokuro meets Sakura and believes that he can be saved by just keeping him occupied, unfortunately the "occupation" tends to result with Dokuro's super-strength and spiked club causing Sakura's early demise on a frequent basis. Good thing Dokuro has angelic powers that bring the dead back to life!
Based on the 10 volume light novel series created by Masaki Okayu and illustrated by Torishimo, Bokusatsu Tenshi Dokuro-chan (Bludgeoning Angel Dokuro-chan) the series was adapted into an anime by ASCII MediaWorks. The first series was released in 2005 and has 8 13-minute episodes. In 2007 it was followed by Bokusatsu Tenshi Dokuro-chan Second, an OAV consisting of a further 4 13-minute episodes.
Media Blasters licensed the title in 2008 and released both the series and the OAV as the single "Smashing Edition". This will be the first time Bludgeoning Angel Dokuro-chan has been released in Australia, it is unknown if this release will contain the OAV as a DVD extra but considering the length of the release (158 minutes) it is likely that the OAV will be included.
---