News

Sega Previews Singing Schoolgirls in Go! Go! 575 Anime's Ad

posted on by Egan Loo
---
A commercial for Sega's Go! Go! 575 television anime shorts began airing in Japan. It features the theme song "Kotoba Colorful" ("Words Colorful") by the main voice actresses under the group name Utayome 575.
The ad describes the anime as "a sketch about relaxed adolescence, spelled out in 17 syllables." Azuki says that they will shine and that they should do their best, to which Maccha says, "I don't want to do that."
The anime ties into Sega's Project 575, which lets players create songs using the traditional Japanese 5-7-5-syllable meter found in haiku and tanka poems. The tie-in game takes the songs the players create syllable-by-syllable and performs them with Vocaloid voices provided by the high school girl characters: the cheerful, positive-thinking Azuki (literally, "red bean") Masaoka (played by Yuka Ōtsubo), and the calm, adult-like Maccha ("green tea") Kobayashi (Ayaka Ohashi). Hiro Kanzaki (Oreimo) designed the characters.




Minako Kotobuki plays Yuzu Yosano, a classmate of Azuki and Maccha. She is always smiling, and she has a big-sister-like personality to do what she can for others.

The Utakumi 575 app is already available for iOS, and the game will arrive on PS Vita on January 23 for 7,350 yen (about US$75). An Utakumi 575: 575 Hatodera Joshi Gakuen Nyūgaku Premium Pack (Utakumi 575: 575 Hatodera Girls' Academy Enrollment Premium Pack) will cost 9,500 yen (US$96).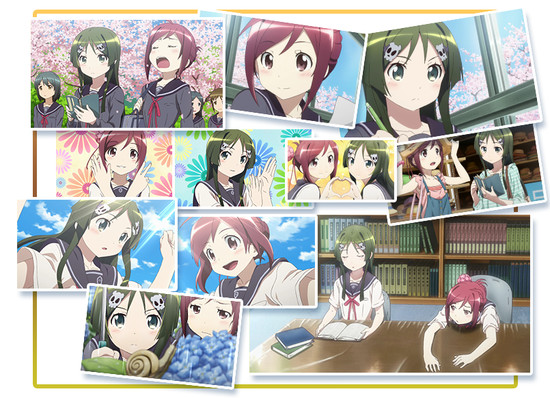 The anime's website noted that "we have no sponsors, so we made this out of own pockets."
The four five-minute episodes will premiere on January 9 on the Tokyo MX TV station.
Images © Sega/Go! Go! 575 Production Committee
---