News

Ping Pong TV Anime's Staff, Cast Briefly Listed

posted on

2014-02-26

23:57 EST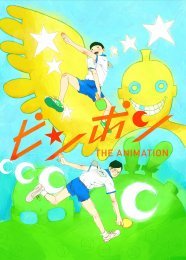 The Comic Natalie website posted an article about the staff and cast for the Ping Pong television anime, but it has since removed the article. The article listed:
Fukujūrō Katayama as Yutaka "Peco" Hoshino
Kouki Uchiyama as Makoto "Smile" Tsukimoto
Shunsuke Sakuya as Ryūichi "Dragon" Kazama
Subaru Kimura as Manabu "Akuma" Sakuma
Yosei Bun as Kon "China" Wenga
Masako Nozawa as Obaba
Yuusaku Yara as Jō Koizumi
Taiyo Matsumoto's original manga revolves around two longtime friends Smile and Peco who are both members of the ping pong club at their high school and are both very talented at the sport. However, Smile's quiet personality keeps him from being able to win against Peco. The club's teacher takes notice of Smile's talent and works to change his attitude toward the sport.
Masaaki Yuasa (Mind Game, The Tatami Galaxy, Kick-Heart) will direct the television anime at Tatsunoko Productions. The removed article credited Nobutake Ito with character designs, kensuke ushio with composing the soundtrack, Kunio Tsujita as the color key artist, Kevin Aymeric as art director, Shunsuke Nakamura as director of photography, Kashiko Kimura as editor, and Eriko Kimura as sound director. The first weekly commercial featuring Smile is slated to air at midnight on Thursday, according to the removed article, followed by commercials for China, Akuma, Dragon, and Peco.
---