News

Toriyama: Became Disinterested in Fighting Manga During Dragon Ball

posted on by Sarah Nelkin
Creator became tired of violent and repetitive fights during the final arc of the original manga
---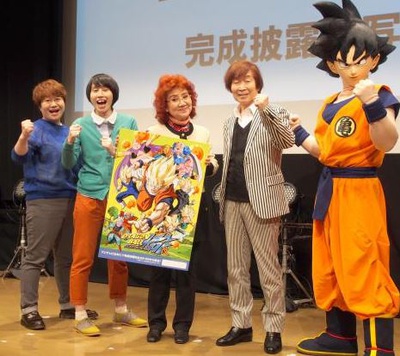 In a comment from Dragon Ball original creator Akira Toriyama read at the completion conference and photo session for the newest series of Dragon Ball Z Kai, the manga creator revealed that since he wrote the Majin Buu saga, he has lost the want to draw battle manga.
He admitted the fact, saying:
The greatest enemy fight in "Kai" is the sublime face-off with Majin Buu, and Majin Buu was also the final enemy in Dragon Ball's weekly manga serialization. The final enemy is round, strong, and very persistent! ...It was such a repetitious and violent fight that even me, the person drawing the manga, came to hate continuing the fight. Now that I've become an old man with high blood pressure and a liking for bland foods, I will not draw this kind of fighting again. Actually, I've lost the want to draw fighting manga ever since [the Majin Buu saga].
Toriyama added, however, that he will always love the exchanges between less important characters. He also wrote that he especially was excited when he drew scenes when Mr. Satan attempted to grasp victory. At the end of his message, he told fans that he hopes they are touched by the talent of Masako Nozawa, as she can change between the voices of Goku, Gohan, and Goten in the blink of an eye.
Dragon Ball Z Kai (known as just Dragon Ball Kai in Japan) condenses the 1989-1996 Dragon Ball Z anime series to more closely follow Akira Toriyama's Dragon Ball manga. The series features digital high-definition remastering, a re-recorded soundtrack, and select scenes updated with new effects or re-animated footage. The 2009-2011 run of Dragon Ball Z Kai covered from the Saiyan Saga to the Android Cell Saga.
Funimation confirmed last month that it has not begun recording a dub for the Majin Buu Saga, and does not yet have plans to do so. Dragon Ball Z Kai voice actors Kyle Herbert and Sean Schemmel reported in April of 2013 that they were recording for the arc.
Voice actress Shino Kakinuma (Sailor Moon's Naru Osaka, Kemonozume's Rie Kakinoki) will be replacing Yuko Minaguchi (Sailor Moon's Hotaru/Sailor Saturn, Kanon's Akiko Minase) in the role of Videl, as Minaguchi is still on hiatus.
The main voice cast includes:
Masako Nozawa as Son Goku
Masako Nozawa as Son Gohan
Masako Nozawa as Son Goten
Kôzô Shioya as Majin Buu
Toshio Furukawa as Piccolo
Takeshi Kusao as Trunks
Hiromi Tsuru as Bulma
Mayumi Tanaka as Krillin
Tohru Furuya as Yamcha
Naoko Watanabe as Chichi
Shino Kakinuma as Videl
Bin Shimada as Babidi
Unshou Ishizuka as Mr. Satan
Yuji Mitsuya as Kaioshin
Jouji Yanami as the Narrator
The main staff includes:
Planning: Makoto Seino, Kozo Morishita
Original creator: Akira Toriyama (Dragonball published by Shueisha)
Producer: Osamu Nozaki, Naoko Sagawa, Norihiro Hayashida
Music: Norihito Sumitomo
Sound Director: Yukio Nagasaki, Satoshi Motoyama
Production Chief: Atsunori Kazama
Editor: Kenta Katase
Series Composition Cooperation: Caramel Mama
Opening/Ending: Tadayoshi Yamamuro
Japanese rock band Good Morning America is contributing their song "Haikei, Zarathustra" (Dear Zarathustra) as the new ending theme.
Source: [Oricon Style]
---