News

Anime Limited to Re-Author Durarara!!

posted on by Andrew Osmond
Series to be re-authored to correct mistakes, DVD edition delayed until further notice.
---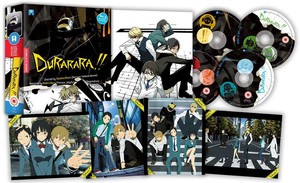 Anime Limited made the following announcement on its All the Anime website regarding its release of Durarara, already available as a limited Blu-ray edition (pictured), and previously scheduled for DVD on May 26 - this DVD is now delayed until further notice, for reasons explained below.
As many of you know – the discs for this release were authored in Australia by the distributor there for their release and we piggy-backed on it for this project. By the time they were delivered to us, the project had been completed for some time with no reports of errors reaching us from there. So we went ahead to press discs – which is when we receive final checks usually (as stock is being made). Since it hit reviewers, we've been made aware of a litany of problems, though, including some pretty important ones with subtitles dropping. Also a lack of signs track despite there being one on the original US release.

To defend Australia – how most studios (even small ones) work is that they pay the authoring house to QC the work and they normally flag any problems. This works 95% of the time and is pretty understandable as a full QC takes 2 x the run of the show...

The issue is – as this project was done and dusted last year for Siren with no real notes, it's passed by. This means it will cost even more to re-author the discs again.

We've taken the decision to re-author the discs for fans in the UK! We don't want anyone feeling unhappy and anyone who orders it will get replacement discs per show from us that needs them as soon as it's done... In the meantime, as it makes sense to use the same materials to create the DVD – we'll wait and post a new release date for the DVD as soon as it's done. Tentatively it'll be all good to go in time for Durarara!! Season 2 though.

While we're there – we'll also work to add signs tracks to each disc as well...
Anime Limited also said that the revised copies would be 'towards the end of the year.' On its twitter feed, the company confirmed "You'll receive replacement copies when they're ready. We'll announce when they're ready and how to get your hands on them." It also added that the re-authoring should address a problem with the disc not 'remembering' where the viewer was in an episode. "We're paying for a brand new master/total reauthoring. So we're basically building it up from the beginning."
On its facebook page, the company confirmed that the corrected subtitles would be added to both the Blu-ray and DVD. "We're using the reauthored BD masters to author the DVD so we don't end up with the same problems migrating over to that release." It also added that only the discs, not the packaging, would be replaced for customers who had already bought this title.
The 26-episode anime, broadcast in 2010, adapts Ryohgo Narita's suspense action light novels of the same name. Narita wrote Durarara's "warped adolescent fantasy romance" about the colorful young denizens of Tokyo's Ikebukuro neighborhood.
---