×
remind me tomorrow
remind me next week
never remind me
Subscribe to the ANN Newsletter • Wake up every Sunday to a curated list of ANN's most interesting posts of the week.
read more
News

Folklore-Inspired Momo Kyun Sword Anime's Cast & Staff Announced

posted on by Lynzee Loveridge
---
The official website for the anime of Kibidango Project's digital light novel Momo Kyun Sword revealed the series' cast and staff on Friday:

Ayana Taketatsu
(
Sword Art Online
,
High School DxD
) as Momoko (lit. peach child), a girl based off of Momotaro. She's a spacey girl born from a peach. Raised by an old man and woman, she lives together with her dog god, monkey god, and pheasant god.


Minami Tsuda (Wake Up, Girls!, Yuruyuri - Happy Go Lily) as Onihime (lit. ogre princess), the daughter of the devil king. She's a girl who is curious about the world, and also hates to lose. In addition, she hates anything that has twisted logic. It's said that she also has a side not seen to others that collects goods of cute characters.



Wataru Hatano (Fairy Tail, Hamatora) as Inugami (lit. dog god), one of Momoko's companions. He has plenty of knowledge and holds manners as something very important. However, due to this, he is sometimes argumentative. Inugami is most skilled at close combat.



Showtaro Morikubo (Samurai Flamenco, Naruto Shippūden) as Sarugami (lit. monkey god), one of Momoko's companions. Unlike Inugami, he is the kind of creature to take action before thinking. He is best at hand-to-hand combat.



Asami Imai (Steins;Gate, The IDOLM@STER) as Kijigami (lit. pheasant god), one of Momoko's companions and the only female of the group. She can transform into a human, and is thought of by Momoko as an elder sister-like figure. She is best at aerial combat and reconnaissance.



Shiori Mikami (Attack on Titan, Yuruyuri - Happy Go Lily) as Ringo (lit. apple), a girl who is a member of the "Celestial Maiden Squad," and is possibly the most powerful of the group. Ringo is bright and lively, and also has the strongest sense of justice within her team. She is always worrying about Momoko. Her most powerful skill is fire.



Suzuko Mimori (Love Live! School idol project, Btooom!) as Suika (pun of watermelon), the Celestial Maiden of Water in the "Celestial Maiden Squad." She acts kind, but her polite words have thorns. She is quite harsh toward her allies, but is actually very kind. Suika uses water skills and her Cakraratna to fight.



Rumi Ookubo (Wizard Barristers: Benmashi Cecil, Yuyushiki) as Maron (lit. chestnut), the Celestial Maiden of Earth in the "Celestial Maiden Squad." She is the brains of the group, and she has a strong sense of responsibility to complete her missions. She is usually cold, but she also has a passionate side. Her weapon is a mallet.



Yuka Ōtsubo (Wake Up, Girls!, Vividred Operation) as Karin, the Celestial Maiden of Wind in the "celestial Maiden Squad." She has a friendly personality, but due to this, she often fails at gathering the shards of the Michimi Peach.



Mikako Komatsu (K, Nisekoi) as Kaguya, a mysterious mad scientist that came from the moon. She is also the guardian of the shards of the Michimi Peach.



Asami Shimoda (The IDOLM@STER, Dragonar Academy) as Kushinada, an aide to the "Celestial Maiden Squad." She is gentle and serious, but also has a fetish for sacrifices. Because of this, she can freeze over the mood of a scene in an instant.



Masumi Asano (Horizon in the Middle of Nowhere, Blood-C) as Celestial Maiden Sumeragi, the leader of all of Heaven. She sends Momoko and her friends to search for the shards of the Michimi Peach in order to stop the ogres from taking them. As they do this, she watches over them warmly.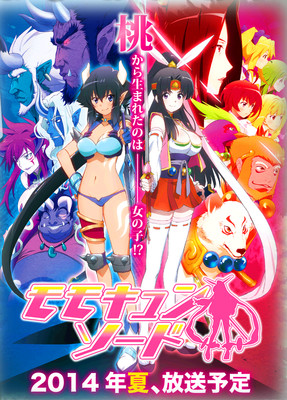 Shinsuke Yanagi (Ro-Kyu-Bu! SS) will direct the series at Tri-Slash and project No.9. Tsuyoshi Tamai (Nogizaka Haruka no Himitsu) will handle the scripts and Hiroshi Tomioka (A Certain Scientific Railgun S, The Pet Girl of Sakurasou) will design the characters and serve as chief animation director. Haruka Chisuga will perform the opening theme song, "Pink Fantasy." Other staff members include:
The story begins with a female re-imagining of Momotarō, a famous character in Japanese folklore. Momoko is a beautiful young sword fighter who was born inside a peach (momo in Japanese). She lives with her constant companions — the dog god Inugami, the monkey god Sarugami, and the pheasant god Kijigami — in a peaceful paradise. However, a demon army led by devil king invades the paradise and steals the precious treasure that protects Momoko's land. To retrieve the treasure and save the people, Momoko embarks on a great adventure with her three companions.
Kibidango Project launched the light novel online for free in the summer of 2012. It features a number of artists who rotate on a regular basis, so there is a different illustrator every month. The project already inspired a weekly online four-panel manga.
The anime series will premiere this summer.
Thanks to Rachel S. for the news tip
Image © Kibidango Project
---