News

Chaika - The Coffin Princess Novel to Bundle Unaired Anime

posted on by Sarah Nelkin
12th novel volume with episode on Blu-ray to ship next March
---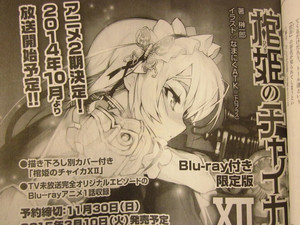 The July issue of Kadokawa's Dragon Magazine is announcing on Tuesday that the limited edition of Ichiro Sasaki's 12th Hitsugi no Chaika (Chaika - The Coffin Princess) novel volume will bundle a Blu-ray Disc containing an original unaired episode of the anime adaptation. The bundle will ship in Japan on March 10, 2015.
The fantasy story centers around Toru Acura, a 20-year-old retired soldier meandering through life now that the war has ended. He encounters Chaika Trabant, a 14-year-old sorceress carrying a coffin and follows her in hopes of finding meaning to his life again. The two travel with Toru's adopted sister, Akari, the employed member of the group and thus Toru's source of income.
The first season premiered last month, and Crunchyroll is streaming the anime as it airs in Japan. The second cour (quarter of the year) of the anime will premiere in October.
[Via 0takomu]
---