×
remind me tomorrow
remind me next week
never remind me
Subscribe to the ANN Newsletter • Wake up every Sunday to a curated list of ANN's most interesting posts of the week.
read more
News

Evangelion's Universal Studios Japan Attraction Teased in Video

posted on by Egan Loo
Experience new story in Tokyo-3 & eat Angel curry buns & dessert
---
Universal Studios Japan began streaming a video for its new Evangelion attraction on Monday. The attraction is part of the Universal Cool Japan event (along with Attack on Titan, Resident Evil and Monster Hunter) which will run between January 23 and May 10.
The "Evangelion the Real 4D" collaboration is the first "4D" project for the Evangelion anime franchise. The attraction will run in the Universal Studio Cinema 4D theater, which has seats that move back and forth and from side to side. It also has wind, water (mist), scents, smoke, and other effects for an "immersive 4D" experience.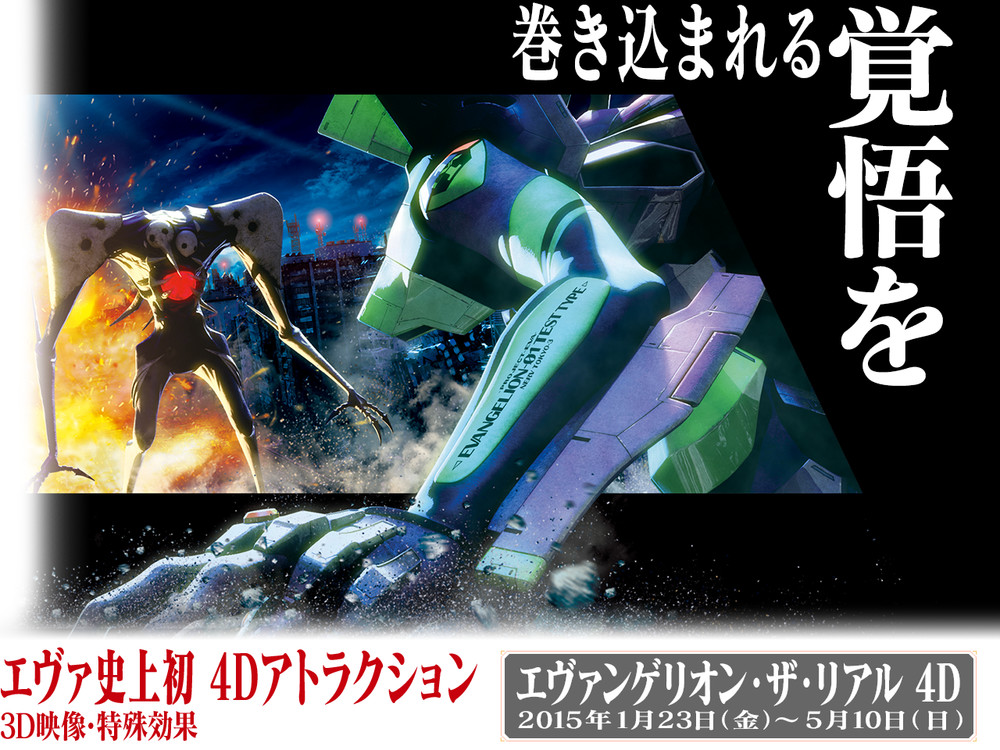 The attraction will have a new original story that cannot be seen outside of the event. In the story, the park visitors become civilians who seek refuge in an underground shelter in Tokyo-3. Thanks to an emergency communique from Nerv headquarters, a large helicopter extracts the visitors — right before an Angel attack. EVA-01 launches, and the visitors are caught in the battle where survival is uncertain. The story will have 3D footage of mecha fights.
Hikaru Utada is once again contributing her song "Beautiful World" for the attraction's ending theme song.

Universal Studios Japan will serve an Angel curry bun with an A.T. Field wave to break through, as well as a Core dessert in an Angel case ("Destroy the core!") and an "Angel Extermination Drink" pierced with a Spear of Longinus.

Universal Studios Japan will also sell interface headsets in the form of hair clips to "synchronize with EVA units."
【フォロー&RTで先行体験へ応募!】※閲覧注意※ ゾンビに襲われる恐怖から仲間とともに脱出せよ!これは、いまだかつてない「リアル脱出ゲーム」。 http://t.co/nB8tXBdtxz #日本発世界最高へ #USJ https://t.co/jNx4yjSE5Y

— ユニバーサル・スタジオ・ジャパン公式 (@USJ_Official) December 8, 2014
【フォロー&RTで先行体験へ応募!】天空山に等身大ジンオウガ降臨!今年は光を駆使した特殊効果が融合し、超帯電状態のジンオウガが目の前に!雷撃にシビレろ! http://t.co/9l5ShTT5zu #日本発世界最高へ #USJ https://t.co/VyHb9eJIYU

— ユニバーサル・スタジオ・ジャパン公式 (@USJ_Official) December 8, 2014
---