News

Main Cast to Perform Nijiiro Days Anime's Ending Theme Song

posted on by Kyle Hallmark
Sonar Pocket
performs opening theme for series premiering in January
---

The December issue of Shueisha's Bessatsu Margaret magazine will reveal the theme song artists on Friday for the television anime of Minami Mizuno's Nijiiro Days (Rainbow Days) manga.
Yoshitsugu Matsuoka (voice of Natsuki Hashiba), Takuya Eguchi (voice of Tomoya Matsunaga), Nobunaga Shimazaki (voice of Keiichi Katakura), and Kouki Uchiyama (voice of Tsuyoshi Naoe) will perform the ending theme song titled "Rainbow Days." Tomotaka Oosumi composed, arranged, and wrote the lyrics for the song. The single will ship in February.
Sonar Pocket (pictured below left), who previously performed the ending theme for Ushio & Tora and the opening theme for World Trigger, will perform the opening theme song, which does not yet have an official title. The band stated that they wrote the lyrics to reflect the friendship between the four main characters. The single will ship in January.

The magazine also advertised a special advanced screening of the anime on December 18 at United Cinema Toyosu in Tokyo. Yoshitsugu Matsuoka and others will be present for the closing ceremony. Tickets will be available for 3,000 yen (approximately US$24) on LAWSON's official ticket website starting on November 21.

The anime will feature the same cast as a previous drama CD: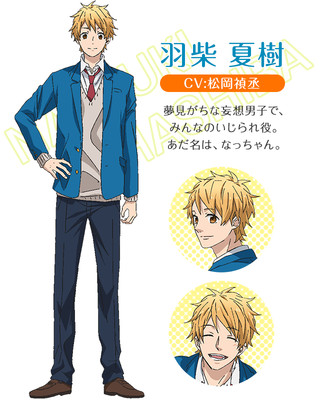 Yoshitsugu Matsuoka (
Sword Art Online
's Kirito) as Natsuki "Nacchan" Hashiba, teased by all for his idealistic fantasies


Takuya Eguchi (My Love Story!!'s Takeo Gōda) as Tomoya "Mattsun" Matsunaga, a narcissistic playboy



Nobunaga Shimazaki (Free!'s Haruka Nanase) as Keiichi "Keichan" Katakura, an athletic boy who is actually sadistic



Kouki Uchiyama (Nisekoi's Raku Ichijō) as Tsuyoshi "Tsuyopon" Naoe, an otaku with a grifriend



Minami Tsuda (Yuruyuri - Happy Go Lily's Yui Funami) as Anna Kobaya



Yumi Uchiyama (Saki Episode of Side A's Arata Sagimori) as Mari Tsutsui



Ai Kayano (anohana's Menma) as Nozomi Matsunaga



Shizuka Ishigami (A Lull in the Sea's Akira Shiodome) as Yukiko Asai
The manga centers on a group of four male high school students who are close friends: Natsuki, Tomoya, Keiichi, and Tsuyoshi. The four boys have no club activities, and they hurry through their studies so they can spend their days having fun. Their main topic of interest: love. Natsuki has an unrequited crush on Anna, a girl from another class, and his friends keep meddling in their relationship.
The anime is holding open voice-acting auditions for Ishida, Natsuki's classmate who appears in episode 6. Candidates can apply on the DAM Tomo website to record their audition videos at participating karaoke locations that use the DAM karaoke system with in-room DAM Tomo cameras. One person will win a chance to play Ishida, and five others will receive posters for the television series.

Tetsuro Amino (Broken Blade, Macross 7, Shiki) is serving as chief director, and Tomihiko Ohkubo (Brave Story unit director, Final Fantasy: Legend of the Crystals, Kiss wa Me ni Shite director) is directing the series at Production Reed (Onsen Yōsei Hakone-chan, Hōkago no Tinker Bell). Aki Itami (Mushi-Shi, Flowers of Evil) is handling the series scripts.
The anime will premiere next January.
Minami Mizuno launched the manga in Bessatsu Margaret in the February 2012 issue, and Shueisha published the 10th compiled book volume on September 25. The manga inspired a drama CD that Shueisha bundled with a limited edition of the seventh volume in October 2014.
A tentatively titled "Nijiiro Days Appli" game will debut on iOS and Android devices early next year.
---