News

Hobby Japan's sin Nanatsu no Taizai Anime Casts Eri Kitamura

posted on by Karen Ressler
Hobby Japan
publishes manga based on beautiful demons representing 7 deadly sins
---
The official website for sin Nanatsu no Taizai, the anime adaptation of Hobby Japan's multimedia project The 7 Deadly Sins (Nanatsu no Taizai, not to be confused with the similarly named manga by Nakaba Suzuki), announced on Friday that Eri Kitamura (Nisemonogatari's Karen Araragi, Taboo Tattoo's LiSA Lovelock) will play Lucifer (pictured below, representing pride).

The other characters, whose cast members have not yet been revealed, include:

Leviathan - Envy

Satan - Wrath

Belphegor - Sloth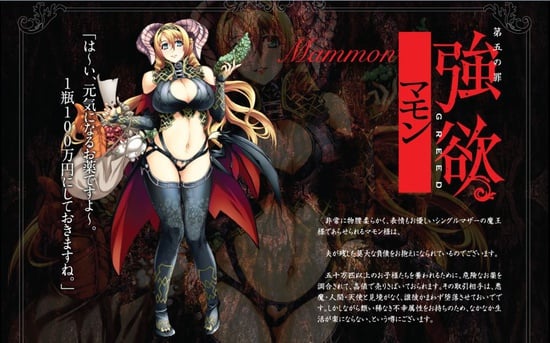 Mammon - Greed

Beelzebub - Gluttony

Asmodeus - Lust

Kinji Yoshimoto (Queen's Blade: The Exiled Virgin, Plastic Little) is directing the anime at TNK and Artland, and he is also credited for story concept, series composition, and color design. (Eri Umemoto is credited for color design alongside Kinji.) Masashi Suzuki (The Sacred Blacksmith, Rail Wars!, Queen's Blade: Grimoire) is the main writer.
Niθ (Blassreiter, Samurai Girls) drew the project's original character designs, and Sachiko Yasuda (Prison School, To Love Ru: Darkness animation director) is adapting the character designs for animation. Yasuda is also credited as chief animation director, alongside Masaru Koseki (Happiness!, Demon King Daimao) and Junji Goto (School Days, High School DxD, Daimidaler). Kio Edamatsu (Magi: Adventure of Sinbad) is credited with industrial design. Kenta Masuda (Motto To Love Ru, Blade & Soul) is the art director, and Sadahime Matsubara (Queen's Blade: The Exiled Virgin, Ikki Tousen: Dragon Destiny) is visual coordinator.
Hobby Japan first announced the project in 2012 with a planned two-episode anime that had a different staff. Orchid Seed produced figures for the project.
A manga adaptation by Ururihi began on Monday on Hobby Japan's Comic Fire website.
Source: Moca News
---