News

Sanrio Danshi Project Gets Anime About Boys Who Love Sanrio Products

posted on by Rafael Antonio Pineda
---
This year's fifth issue of Shogakukan's Sho-Comi magazine is revealing on Friday that Sanrio's Sanrio Danshi (Sanrio Boys) project is getting an anime adaptation. The anime will star the project's five voice actors for the characters, which include:


Takuya Eguchi (Haikyu!!'s Yūji Terushima, My Love Story!!'s Takeo Gōda) as Kōta Hasegawa, a high school boy that loves Pom Pom Purin.


Sōma Saitō (Dance with Devils' Rem Kaginuki, Rokka: Braves of Six Flowers' Adlet Myer) as Yū Mizuno, he loves My Melody


Jun Oosuka (Nogizaka Haruka no Himitsu's Ogawa) as Shunsuke Yoshino, he loves Hello Kitty


Hiroyuki Kagura (Bungo Stray Dogs' Kenji Miyazawa) as Ryō Nishimiya, he loves Little Twin Stars


Yūma Uchida (King of Prism's Yū Suzuno, Gundam Build Fighters Try's Yūma Kōsaka) as Seiichiro Minamoto, he loves Cinnamoroll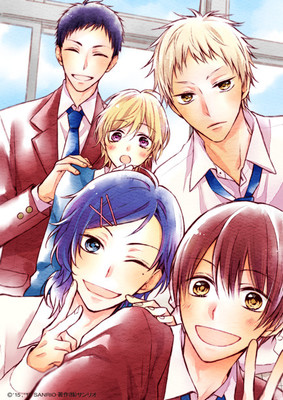 The project's premise follows Kōta Hasegawa, a high school boy that loves the yellow Pom Pom Purin dog. By mere coincidence, he ends up attending the same school as Yū Mizuno, a boy who likes the bunny My Melody. Yū tells Kōta that there's nothing to be ashamed of for liking Sanrio's cute characters. Together, Kōta, Yū, Shunsuke Yoshino, Ryō Nishimiya, and Seiichiro Minamoto learn to accept their love of the characters instead of feeling embarrassed.
The project launched last January, and Sanrio launched a merchandise line for the project last April. Mai Andō is handling two different manga adaptations of the project, with a manga in the MangaOne app that launched last April, and one in Sho-Comi that launched last June. The first follows the everyday lives of the boys, while the second depicts the romance between a heroine and the boys. The first compiled book volume, which collects the story from both manga, shipped last June.
Sanrio also released a smartphone game adaptation in September, and the voice actors released a song single titled "Fun! Fantastic girl!" in November. The song is the theme song to the game.
---