News

King's Game The Animation Horror Anime's Teaser Promo Video, Theme Song Artist Revealed

posted on by Crystalyn Hodgkins
coldrain
performs opening theme song for series premiering in October
---
The official website for King's Game The Animation, the television anime adaptation of Nobuaki Kanazawa's Ō-sama Game (King's Game) cellphone novel, began streaming the anime's teaser promotional video on Thursday. The video reveals and previews coldrain's (Hajime no Ippo: New Challenger, Rainbow - Nisha Rokubō no Shichinin) opening theme song "Feed the Fire."
Noriyoshi Sasaki (Ojisan to Marshmallow) is directing the anime at Seven. Kenji Konuta (Library War, Haitai Nanafa, Ace of Diamond) is in charge of series composition. Kan Soramoto (High School DxD, Hybrid x Heart Magias Academy Ataraxia animation director) and Yōsuke Itō (The Testament of Sister New Devil BURST, Hybrid x Heart Magias Academy Ataraxia animation director) are in charge of character designs, and Soramoto is also credited as the chief animation director.
The show stars:
Mamoru Miyano as Nobuaki Kanazawa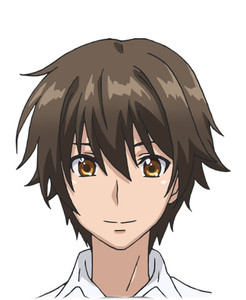 Yui Horie as Natsuko Honda


M.A.O as Chiemi Honda


Pile as Ria Iwamura


Yusuke Sasaki as Kenta Akamatsu


Shinnosuke Tachibana as Naoya Hashimoto


Akari Uehara as Riona Matsumoto



The rest of the cast includes:
Shinya Hamazoe as Shingo Adachi
Yoshitsugu Matsuoka as Toshiyuki Abe
Miyuu Tsuji as Satomi Ishii
Suguru Narisawa as Hirofumi Inoue
Yūma Uchida as Yōsuke Ueda
Yui Makino as Kana Ueda
Fukushi Ochiai as Akira Ōno
Kimito Totani as Yūsuke Kawakami
Ami Fukushima as Chia Kawano
Konomi Yūzaki as Akemi Kinoshita
Yuka Ōtsubo as Mami Shirokawa
Hisayoshi Suganuma as Daisuke Tasaki
Kenji Akabane as Hideki Toyoda
Mirai Sasaki as Minako Nakao
Risa Yuzuki as Misaki Nakajima
Minori Suzuki as Nami Hirano
Kōdai Sakai as Toshiyuki Fujioka
Mariko Honda as Kaori Maruoka
Misaki Suzuki as Emi Miyazaki
Shūta Morishima as Shōta Yashiro
Miya Amamiya as Hiroko Yamaguchi
Yui Nagano as Keita Yamashita
Yū Sanada as Masatoshi Ōi
Saki Fujita as Aya Kuramoto
Hitoshi Horinouchi as Daiki Kurosawa
Ai Nakajima as Yūna Kobayashi
Hayato Horiuchi as Toshifumi Sakakibara
Satoshi Hino as Takuya Sakamoto
Tatsuhisa Suzuki as Yūichi Satō
Yuusuke Tonozaki as Tatsuya Shinba
Hiroyuki Kagura as Ryō Sugisawa
Makoto Takada as Shin Takada
Rie Hanafusa as Nanami Takumi
Ryōta Suzuki as Teruaki Nagata
Masashi Uchida as Tsubasa Furusawa
Yuka Ozaki as Aya Matsuoka
Kana Yūki as Rina Minami
Ibuki Kido as Aimi Murazumi
Kazusa Aranami as Haruka Momoki
Suzuna Kinoshita as Mitsuki Yukimura
The anime will premiere in October on AT-X, Tokyo MX, and BS11.

The original novel's story begins when an entire high school class of 32 people receive a message on their cellphones from a person known only as the "King." The messages contain orders that the students must obey, or they risk the punishment of death. With their lives on the line, the students soon find out that the orders are getting more and more extreme as time goes on.
Futabasha published the original cellphone novel in tankōbon format in 12 volumes from 2009 to 2015, and also in larger bunkoban format in the same number of volumes from 2011 to February 19 earlier this year. Futabasha is also releasing a new edition of the novels (seen left) with its Futabasha Junior Bunko label, with illustrations by Chiba. The sixth and latest volume in that re-release shipped on March 15.
The story has also inspired four manga adaptations. The first manga by Hitori Renda ran on Futabasha's Everystar Premium online service from 2011 to 2012, and received five volumes. The second manga by Renji Kuriyama, titled Ousama Game: Shūkyoku, ran on Everystar Premium from 2012 to 2014, and received four volumes. The third manga by J-ta Yamada, titled Ousama Game: Kigen, ran in Futabasha's Monthly Action magazine from 2014 to 2016, and received six volumes. Crunchyroll released chapters of the manga online under the title King's Game: Origin. The fourth manga, again by Kuriyama, is titled Ousama Game: Rinjō, and it ran from 2015 to last November. Futabasha published the manga's fourth and final volume last November.
The game inspired a live-action film adaptation that opened in Japan in December 2011. A smartphone social game adaptation and tie-in to the film was also released in November 2011.
Source: Comic Natalie
---