News

Seven Deadly Sins Ranks #4 Among Netflix Shows Most Watched Within 24 Hours

posted on by Karen Ressler
24-episode 1st series debuted in November 2015
---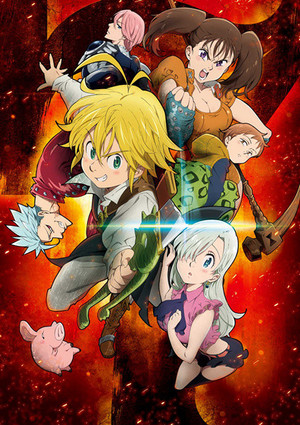 Netflix released on Tuesday a list of its top 20 exclusive shows in terms of which full seasons were watched most within the first 24 hours of release. The Seven Deadly Sins ranked at #4 on the list, after Gilmore Girls: A Year in the Life, Fuller House, and Marvel's The Defenders.
Netflix defined the practice of watching an entire season as quickly as possible as "binge racing." It noted that it has 8.4 million members that have "binge raced" a show during their membership. In addition, the number of people finishing a full season within 24 hours has increased 20 fold from 2013 to 2016.
All 24 episodes of The Seven Deadly Sins' first season debuted on Netflix simultaneously in November 2015. The anime had already finished its run in Japan.
A four-episode television anime special titled The Seven Deadly Sins -Signs of Holy War- premiered in Japan in August 2017, and Netflix began streaming it internationally in February. A second season of the anime will premiere in Japan on January 6, and an anime film is slated for next summer.
FUNimation Entertainment released the first season on home video.
Netflix announced on Monday that it will produce 30 "new" anime series for release in 2018.
Source: The Hollywood Reporter (Michael O'Connell)
---