Digital Manga, Inc. Now Offers Indie Submissions on eManga.com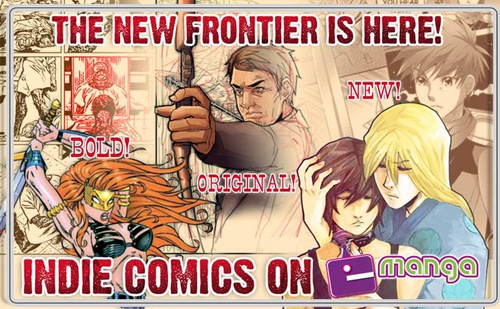 Gardena, CA. (May 15, 2013)
Digital Manga, Inc., one of the manga industry's most progressive and innovative publishers, is proud to announce the addition of published works by independent authors to the eManga library. As eManga continues to offer the latest and hottest titles from Digital Manga's line of imprints and other featured publishers, eManga has been soliciting and reviewing creator submitted works, including web and underground comics, for distribution on its digital storefront. Go directly to our Indie Comics section at eManga.com (
https://www.emanga.com/indie
).
A fabulous variety of web comics, American manga, novels, and more from talented independent authors and artists is now available on eManga. Choose from over 50 newly launched indie titles! Chapter One Special Edition of Madeleine Holly-Rosing and Emily Hu's steampunk mini-series,
Boston Metaphysical Society
, begins the thrilling tale of an ex-Pinkerton detective and his new spirit photography partner in the backdrop of late 1800s Boston. Madison Hawthorne and Bryan Golden bring an intriguing tale of high stakes and royal bloodlines with their comic series,
King of Sweden: Last Bloodline
. In the charming comic One-Shot!, Rejena Smiley tells the story of an author struggling to find her way out of writer's block. In A
Soldier's Choice
, D.L. Warner writes a tender novel about two "Altered" soldiers battling the militaristic system they live in and their forbidden love for one another.
In addition to these creator submitted works, eManga is excited to offer Abril Espinosa's vampiric drama,
Natura Morta
, from eigoManga, long time publisher of Original English Language manga. Seven more eigoManga titles are now available on eManga.
The fun doesn't stop there. Emanga now also boasts seventeen FREE titles from CE Publishing, including several Lightning Comics revivals like
Catfight: Escape from Limbo
and
Megabook
, a 450+ page comic anthology.
With eManga's seven distinct downloadable ebook types and smooth Javascript online reader, explore the exciting, new stories and worlds from our indie creators. Digital downloadable files that you can keep forever eliminate the hassle of renting restrictions found on other digital storefronts, making eManga an ideal platform for independent content creators to get their works into as many eager hands as possible.
eManga is still on the look-out for new works from independent content creators. If you are an author or creator interested in distributing your work on eManga.com, please consult our Submissions Guidelines (
https://www.emanga.com/submission
) or contact us at
[email protected]
Visit us at
www.eManga.com
and sign up for the
eManga newsletter
and get all the latest updates!
About Digital Manga, Inc.
Located in Gardena, CA, Digital Manga, Inc. is one of the industry's most unconventional and innovative companies, specializing in building corporate and cultural bridges from Japan to the West — specifically through the licensing, importation and preparation of anime (Japanese animation), manga (Japanese comic books) and related merchandise for North America's mainstream and niche markets. In this capacity, DMI serves as a catalyst for the spread of Japanese pop culture institutions into the global arena. The company's imprint lines include DMP (its mainstream imprint), DMP PLATINUM (its classic manga imprint), JUNÉ (its boys love imprint), 801 MEDIA (its adult boys love imprint), DokiDoki (its exclusive co-publishing imprint with Shinshokan Publishing), DH/DMP (a co-publishing venture with Dark Horse Comics), Project-H (its Seinen Hentai manga imprint), and DMG (a unique digital distribution initiative).
For more information about Digital Manga Publishing, visit
www.digitalmanga.com
as well as:
www.dmpbooks.com
www.junemanga.com
www.digitalmangaguild.com
www.emanga.com
www.projecth.xxx
---