×
remind me tomorrow
remind me next week
never remind me
Subscribe to the ANN Newsletter • Wake up every Sunday to a curated list of ANN's most interesting posts of the week.
read more
Shelf Life
London Calling
by Bamboo Dong,

Welcome to Shelf Life.
Shifting gears completely, I popped in the fourth volume of Toriko. I guess if "cute girls doing cute things" is a genre designation, then, "manly men punching manly things" should be the cartoonishly macho equivalent.
That's it for this week. Thanks for reading, folks!

This week's collection is from Jarin:
" My name's Jarin and I live in Northwestern Ontario. I've been into anime for about 14 years, starting with Pokémon, Digimon and the like, then moving on to older fare when my cousin introduced me to Trigun. I've been collecting manga for about 7 years, starting with, of all things, One Piece volume 2. In addition to my shelves, I have a big trunk full of series that I don't care enough about to leave out but don't dislike enough to actually get rid of. Since a lot of manga series I like have ended, I've gone on to collecting DVDs and Blu-Ray more regularly as of late. Though I forgot to take a picture, my Black Butler DVDs were signed by J. Michael Tatum and Brina Palencia at Anime North last year. Due to the size, my collection of One Piece DVDs is elsewhere. But my favourite collectibles are my Portrait of Pirates figures, which has grown a lot in recent months now that I've grown more accustomed to finding them. I don't normally keep them out like this (they usually stand in their boxes on various shelves), but I just had to make a group shot. I'm anxiously awaiting the release of the Trafalgar Law and Kalifa figures coming out later this year."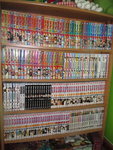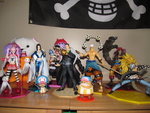 I love this! And I love those green walls. I want to photoshop myself into the picture so it looks like I'm ogling your shelves.
Want to show off your stuff? Send your jpgs to [email protected] Thanks!
---
discuss this in the forum (49 posts)
|