×
remind me tomorrow
remind me next week
never remind me
Subscribe to the ANN Newsletter • Wake up every Sunday to a curated list of ANN's most interesting posts of the week.
read more
The List
7 Tragically Unlicensed Shojo Anime
by Lynzee Loveridge,

Next to sports anime, shojo are routinely left on the wayside during licensing pick ups. There are plenty of theories why. Older shojo series, including magical girl shows, have high episode numbers that cost more to produce. Things have gotten better, and while there hasn't been a 50+ episode romance series in quite awhile, what does come out is more likely to get streamed. Older series are still out of luck, though with many of this week's entries lingering in out-of-print land.

7. Chihayafuru Fortunately, Chihayafuru is available via legal streaming on Crunchyroll and on home video for English speakers out in Oceania. The rest of us aren't getting to place the show anywhere on our shelves in the foreseeable future. It's a shame, but can probably be blamed on the series revolving around karuta, which is more than a few steps beyond Texas Hold 'Em. Hollywood doesn't think audiences can understand baccarat so a card game requiring familiarity with classic Japanese poems is a bigger stretch. Which isn't fair, because once the cultural hurdle is jumped over Chihayafuru is an emotionally poignant show with deep relationships and characters.






6. Saint Tail This magical girl show seems like it'd have a sure-fire shot with fans of Card Captor Sakura, and that's probably what Tokyopop was shooting for when it released the show dubbed on VHS and DVD, but the English voiceovers were abandoned halfway through the series. The dub was edited to remove references to "God," a pretty interesting move for a show that stars a nun-in-training as the protagonist's best friend. The show hasn't been released since, becoming another magical girl show slowly fading into obscurity.






5. Marmalade Boy Marmalade Boy is one of English audiences' first exposure to "we're related, but not really" romances. Miki and Yuu's parents go on a couple's retreat and come back newly divorced and remarried. In this case, they swapped spouses so each set is effectively the other's step parents, and that isn't even the most complicated love triangle in the show. The new step-siblings are now living together and and burning up their own romance but the show has more love rivals than you can shake a stick at. TokyoPop released the show and manga, but both are now sadly out of print. The 76-episode runtime for the anime is also on the larger side for an already dated show.






4. Boys Over Flowers This is another long romance series that is desperately do for a box set treatment. The adaptation of Yoko Kamio's 30+ volume romance drama takes poor girl Makino at an illustrious school ruled by F4, a bunch of rich guys including one with Justin Timberlake's original hair. A similar set up is also in the popular Ouran High School Host Club, although those boys are much nicer. Viz Media released the series over 12 single volumes from 2003 to 2004 and what with the brand spankin' new manga sequel getting simul-published and the original manga getting a new digital release, I can only hope the company is gauging interest for the anime. It's been 10 years and it's possible the license is back up in the air, but maybe increased manga interest could lead to some renewed attention for the anime.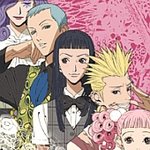 3. Paradise Kiss This gorgeous romance series pulls together a group of social outcasts and their leader's new muse, Yukari. The series tackles the more complicated issues surrounding adolescence, including not only sex but sexuality, too. The series' romantic male lead is bisexual and Isabella is one of the more respectful trans characters appearing in anime. Paradise Kiss is also refreshing in that it doesn't sell first loves, regardless of how intense they are, as true love. Unfortunately the show is now out of print after Geneon went under. The manga is, thankfully, still available from Vertical, Inc.






2. Fairy Princess Minky MomoMinky Momo is a classic magical girl show that deserves an unedited release if only for historical purposes. The story sounds pretty similar to other 80s magical girl anime of the time. Momo is a young girl who, with the help of some cute mascots, attempts to restore a magical land by doing good deeds and transforming into various career people. The show had a lasting effect though, thanks to a tragic ending that lingered in the minds of fans. The second season's sorta-reboot does nothing to improve the first's tonal shift either. The whole series is getting a re-edited movie series release by William Winckler Productions, which is available for streaming on Amazon now.






1. Hataraki Man Hataraki Man is a show that defies general demographic stereotypes. The manga ran in a seinen magazine, but it stars a working class adult woman more often seen in josei works. Hiroko works at a newspaper where her dedication to her job gets her dubbed "Hataraki Man" or "Working Man", a pretty loaded phrase, when you think about it. Regardless, Hiroko isn't a female character we get to see animated very often, especially as a main character. Her life revolves around her job and her hopes of not only writing the perfect story but becoming editor of her own magazine. The series is based on a manga by Moyoco Anno, but despite some of her other works finally coming across the sea, we don't have Hataraki Man. Her other anime, Sugar Sugar Rune, hasn't come over either.








The new poll: What's anime's most deadly assassin?
The old poll: Last week we asked which spring 2015 anime you are most looking forward to. The next season of Gintama was the top choice, followed by the next season of Fate/Stay Night Unlimited Blade Works. Here's the top 20:
Gintama - 16.3%
Fate/stay night Unlimited Blade Works - 11.6%
Digimon Adventure tri - 11.4%
The Disappearance of Nagato Yuki-chan - 5.1%
Yahari Ore no Seishun Love Come wa Machigatteiru. Zoku - 5.0%
High School DxD BorN - 4.5%
Food Wars: Shokugeki no Soma - 3.9%
The Heroic Legend of Arslan - 3.3%
Nisekoi: - 2.8%
Knights of Sidonia: Battle for Planet Nine - 2.7%
Seraph of the End - 2.6%
Ghost in the Shell Arise: Alternative Architecture - 2.5%
Uta no Prince-sama - Maji Love Revolutions - 2.4%
My Love Story!! - 2.1%
Blood Blockade Battlefront - 2.1%
Magical Girl Lyrical Nanoha ViVid - 2.0%
Ninja Slayer From Animation - 1.9%
Sound! Euphonium - 1.9%
Is It Wrong to Try to Pick Up Girls in a Dungeon? - 1.6%
Kyōkai no Rinne - 1.5%
---
When she isn't compiling lists of tropes, topics, and characters, Lynzee works as Associate Editor for Anime News Network and posts pictures of her son on Twitter @ANN_Lynzee
.
---
discuss this in the forum (94 posts)
|