Tenchi Muyo Movie 2: Daughter of Darkness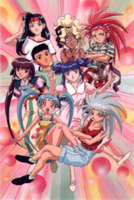 Alternative title:
Tenchi Muyô 2, la película: La hija de la oscuridad (Japanese)
Tenchi Muyô! Manatsu no Eve
Tenchi Muyo! Midsummer's Eve
Tenchi The Movie 2 - The Daughter of Darkness
天地無用!真夏のイブ (Japanese)
Objectionable content:
Significant
Plot Summary:
A girl, Mayuka, appears one day claiming to be Tenchi's daughter, much to the shock of the Masaki household. Chaos ensues as Washu attempts to discover Mayuka's background, and the girls adjust to the new presence at their home. The result of her appearance reaches back into the past, and puts Tenchi in danger. Tenchi and Ryoko must travel into the realm of a demon called Yuzuha in order to try and set things right, but their task is not an easy one.
User Ratings:
876 ratings have been given [details]
Ending Theme:
"Manatsu no Eve" by Mariko Nagai
Official website:
You can contribute information to this page, but first you must login or register
Japanese staff
Japanese cast






Japanese companies

English staff
English cast





English companies

Korean cast
Korean staff

(none)






Korean companies

(none)


Spanish staff
Spanish cast





Spanish companies

Broadcaster

:

LAPTV

(Cityvibe)

German staff
German companies

(none)


German cast

(none)

This encyclopedia is collaboratively edited by the users of this site
# A B C D E F G H I J K L M N O P Q R S T U V W X Y Z
Anime anthology