Anime Spotlight - The Severing Crime Edge
by Justin Sevakis,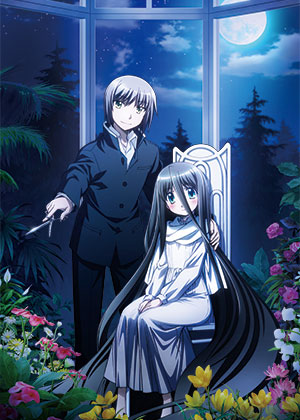 April, 2013 (Japanese Premiere)

Key Staff
Director - Yuji Yamaguchi

    (Fate/stay night, Angel Links)

Series Composition - Tatsuhiko Urahata

    (Haganai NEXT, Horizon in the Middle of Nowhere, Murder Princess)

Character Design - Katsuzo Hirata

    (Angel Beats!, Ben-To)

Animation Production

Studio Gokumi







Introduction
The original work is currently being published In Monthly Comic Alive, and currently extends across 6 volumes since its first launch in 2009 thanks to the great support it's earned from readers! The director of Fate/stay night, Yuji Yamaguchi, Series Composer of Saki and Horizon in the Middle of Nowhere, Tatsuhiko Urahata, and Studio Gokumi, animation producers for Saki and NAKAIMO, have all come together for this long-awaited anime!
Story
"I want to cut you."
The young boy, Haimura Kiri, loved to cut women's hair, and one day he happened by a western mansion on his way home from school where he met a girl with long, beautiful hair, Mushanokouji Iwai. Her hair was cursed so that no scissors could cut it.
"Killers", "Killing Goods", "The Queen of Hair"—Kiri was confused by all these unfamiliar terms circling Iwai, but…?
Let the love-battle story of boys and girls who possess the blood of Killers and their Killing Goods begin!
Characters
Haimura Kiri
VA: Natsuki Hanae

"Let me cut your hair."

Kiri is a middle school student who loves to cut women's hair. One day he happens by a western mansion on his way home, and his encounter with Mushanokouji Iwai leads to his participation a death game over various "Killing Goods".

Mushanokouji Iwai
VA: Kotori Koiwai

"Kiri-kun… you're the first one to kill me!"

A girl who lives in a western mansion near school. She looks like a young elementary schooler, but she's the same age as Kiri. She has long, beautiful dark hair, but it's also cursed.

Byouinzaka Yamane
VA: Kaori Fukuhara

"The urge is growing… ahh… I want to kill…"

She's one of Kiri's classmates, but they barely knew each other until he met Iwai at the mansion. She's very dark and creepy.

Byouinzaka Houko
VA: Yumi Uchiyama

"I'm the one to receive her hostility!"

Yamane's older sister. She goes to a different school than Yamane or Kiri. She's usually cynical, but at times she can be kind. She acts as Yamane's "Instead."

Sumeragi Kanae
VA: Koji Yusa

"A precious loli! A precious loli!"
Kanae is a member of "Gossip". Kiri and the others call him "Professor". He's in charge of supervising, observing, and taking care of Iwai.

Misumi Kashiko
VA: Kiyono Yasuno

"Argh, jeez, this isn't like me."
One of Kiri's classmates. She's tall, has long hair, and she's on the volleyball team. She also works as a model for the local magazine. Her family runs a beauty salon.

Ubusato Nigi
VA: Yumi Uchiyama

"He's swinging a blood-stained weapon…"
One of Kiri's classmates. Her favorite genres are occult, splatter, and horror fiction. She's Koutaro's childhood friend.

Naruto Koutaro
VA: Nobunaga Shimazaki

"I am working out."
Kiri's classmate and best friend. He's the ace of the Iai team, and his family runs a classic martial arts dojo where he learned his skills.
Cast
Haimura Kiri

Natsuki Hanae

Mushanokouji Iwai

Kotori Koiwai

Byouinzaka Yamane

Kaori Fukuhara

Byouinzaka Houko

Yumi Uchiyama

Misumi Kashiko

Kiyono Yasuno

Ubusato Nigi

Arisa Noto

Naruto Koutaro

Nobunaga Shimazaki

Sumeragi Kanae

Koji Yusa
Staff
Original Creator

Tatsuhiko Hikagi

Director

Yuji Yamaguchi

Series Composition

Tatsuhiko Urahata

Character Design

Katsuzo Hirata

Animation Production

Studio Gokumi




©Tatsuhiro Hikagi,MEDIA FACTORY/The Severing Crime Edge Production Commitee
---
discuss this in the forum (236 posts)
|
back to Anime Spotlight Spring 2013 - The List
Anime Spotlight homepage / archives