×
remind me tomorrow
remind me next week
never remind me
Subscribe to the ANN Newsletter • Wake up every Sunday to a curated list of ANN's most interesting posts of the week.
read more
Anime Spotlight - ACCA: 13-Territory Inspection Dept. (Updated)
by ANN Staff,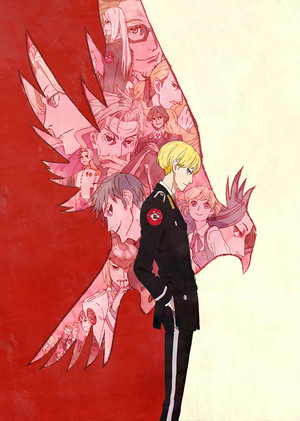 On air starting January 10, 2017


Key Staff
Director: Shingo Natsume

Series Structure: Tomohiro Suzuki

Original creator: Natsume Ono










Story
ACCA is a massive organization, created to safeguard peace for the citizens of the thirteen autonomous districts that comprise Dōwā Kingdom. Jean Otus works for the ACCA Headquarters Inspection Department. Tasked with conducting compliance audits of each district's ACCA branch offices, Jean also has the moniker of "Jean the Cigarette Peddler." After nearly a century of peace, the audits have largely become a formality—or so everyone thinks. Carefree Jean may puff away on his cigarettes and enjoy break time at the office, but he is being watched. Amidst rumors of unrest, Jean is slowly drawn into a vast web of intrigue. Watch his story unfold, as the lives and schemes of the numerous devious characters, which populate ACCA, intersect.
Jean's Work
The Inspection Department manages the data from each district branch, the operational and incident logs sent by branch staff. Jean is mainly responsible for visiting each district branch and conducting ad hoc audits.
Characters
Deputy Chief, ACCA Headquarters Inspection Department

Nicknamed "Jean the Cigarette Peddler." Likes sandwich bread and strawberries.

Jean's Friend

A freelance journalist. Likes chocolates and riding his motorcycle.

Jean's Sibling

Sensible and a good cook. Loves sweets made from wheat flour.

 




ACCA Headquarters

Five Chief Officers

From Rokkusu District.

Five Chief Officers

From Furawau District.

Spade (Voice: Toru Okawa)

Five Chief Officers

From Yakkara District.

Five Chief Officers

From Suitsu District.

Five Chief Officers

From Jumōku District.

Director-General

Leads ACCA, under the supervision of the Five Chief Officers.

Pochard (Voice: Hiroki Gotou)

Deputy Director-General, ACCA Headquarters

Likes attending the opera.

 




ACCA Bādon Branch

A rookie constable in the police department. Dislikes elites working at headquarters.

 




Dōwā Royal Family

Sole heir to the throne. Dislikes ACCA.

A competent Imperial guard and Schwan's aide.

Fourth monarch of Dōwā Kingdom.

President of the Privy Council

Advisor to the king.

 




ACCA Headquarters Inspection Department

Chief

Gets motion sickness. Has Jean handle all of the audits.

Gentle and kind. Father of three.

Loves break time.

Keeps a strict schedule when it comes to break time.

Leads the way when it comes to break time.
World
Dōwā Kingdom is comprised of thirteen districts that have been granted autonomy. Each district has developed a unique culture. Approximately a century ago, the current system was established after a coup d'état occurred during the previous king's rule. In order to achieve a peaceful resolution, he granted autonomy to each district. Each district has an ACCA branch office to support its residents.
13 Districts: Bādon, Birra, Kororē, Dōwā, Suitsu, Jumōku, Yakkara, Pranetta, Furawau, Hare, Rokkusu, Fāmasu, Peshi

Fāmasu District
A vast, agricultural district. Branch staff may help with the harvest.
Bādon District
Contains the capital of Dōwā Kingdom. The Bādon branch, adjacent to ACCA headquarters, issues white uniforms.
Jumōku District
Residents are of an average height of 215 centimeters. Everything is large in size, including agricultural produce.
What is ACCA?
A massive umbrella organization, under which agencies such as the police, fire, and medical departments reside. Established when autonomy was granted to each district, to serve as a standalone civilian organization, independent of the state. Each branch office operates autonomously under the oversight of ACCA headquarters. The organization was named after a bird symbolizing peace, which has gone extinct.
ACCA headquarters employs many elites. The Inspection Department is also located at headquarters. .
ACCA Trivia
Who is Mr. ACCA?
The official mascot of ACCA. Works hard to teach everyone about ACCA.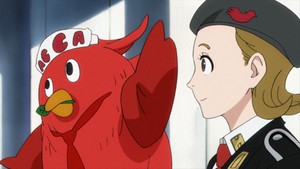 Each branch office has its signature uniform!
Each branch uniform is unique, having been designed to reflect each individual district's culture and climate. The coldest district, Birra, has a uniform that is very warm!


Birra's Uniform compared to Suitsu's
Cigarettes are expensive luxury goods!
For some reason, cigarettes are considered an extreme luxury in Dōwā Kingdom. Due to the high taxes, civilians rarely get their hands on cigarettes. As for how Jean is able to smoke cigarettes—his moniker provides a hint!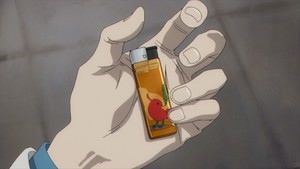 Break time is indispensable!
All Dōwā citizens love break-time snacks. They enjoy many different kinds of dessert breads. At the Inspection Department, break time is scheduled every day for 10 AM and 3 PM sharp!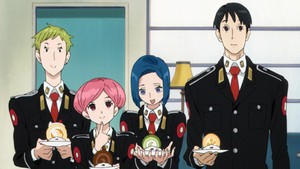 Cast
Jean Otus

Hiro Shimono

Nino

Kenjiro Tsuda

Lotta

Aoi Yūki

Grossular

Junichi Suwabe

Lilium

Koji Yusa

Spade

Toru Okawa

Pastis

Hikaru Midorikawa

Pine

Hiroki Yasumoto

Mauve

Atsuko Tanaka

Pochard

Owl

Youji Ueda

Knot

Tomoaki Maeno

Rail

Taku Yashiro

Schwan

Mamoru Miyano

Magie

Yūto Uemura

Falke Ⅱ

Ryusei Nakao

Qualm

Unshō Ishizuka
Staff
Original Author:

"Natsume Ono (Comic Serialized in BIG GANGAN Published by SQUARE ENIX)"

Director:

Shingo Natsume

Series Structure:

Tomohiro Suzuki

Character Design:

Chief Animation Director:

Costume Design:

Accessory Design:

Kai Igarashi

Art Director:

Color Design:

Composite Director:

3D Director:

Editor:

Sound Director:

Music:

Animation Production:




© Natsume Ono/SQUARE ENIX, ACCA Committee
---
this article has been modified since it was originally posted; see change history