×
remind me tomorrow
remind me next week
never remind me
Subscribe to the ANN Newsletter • Wake up every Sunday to a curated list of ANN's most interesting posts of the week.
read more
New York Comic Con 2013

Kodansha Comics Panel

by Crystalyn Hodgkins,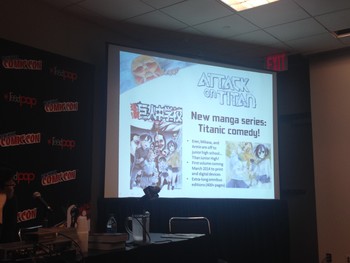 Editor Ben Applegate, general manager Dallas Middaugh, and editor David Yuu hosted the standing room only Kodansha Comics panel on Friday afternoon. Kodansha kicked off the panel by showing a trailer for the Attack on Titan manga. Applegate revealed that the manga has 500,000 copies in print in English. Applegate then announced that it will release the Attack on Titan Inside & Outside Guidebook in June 2014. The guidebook will include character profiles, designs, and maybe Attack on Titan papercraft. The Say "I love you". manga will debut in April 2014, and the My Little Monster manga will debut in March 2014. Hiro Mashima's Monster Soul two-volume manga will ship in May and August 2014. xxxHOLiC: Rei will come out in 2014, and Kodansha is re-releasing the xxxHOLiC and Tsubasa, RESERVoir CHRoNiCLE manga in omnibus editions starting next year.
Applegate then revealed that Kodansha has acquired the license for Nakaba Suzuki's Nanatsu no Taizai (The Seven Deadly Sins) manga. The manga will debut in March 2014. He then announced that Kodansha has licensed Ken Akamatsu's UQ Holder! manga, and that series will debut in spring 2014. The first volume of the Sailor Moon Short Stories manga is on sale now, and the second volume will ship next month. The first two volumes of the Sherlock Bones manga are available now, and the third volume will ship in January, the fourth volume will ship in March, and the fifth volume will ship in May.
Applegate then talked about e-books available now. Kodansha launched its e-books line this year, and its manga are available digitally on Kindle, Nook, and the iBookstore. Kodansha does not have Sailor Moon digitally yet. Kodansha is releasing Fairy Tail digitally twice monthly so it is almost caught up to Japan. The print editions should be caught up to Japan next year. No. 6 is available digitally and the manga has beaten Kodanasha's expectations. Vinland Saga will be available digitally starting next week, and volume 1 is available now in print. Kodansha then announced the following manga will be available digitally soon: Shugo Chara!, Shugo Chara-chan!, Tokyo Mew Mew, Tokyo Mew Mew a la Mode, Sherlock Bones, My Little Monster, Say "I love you"., and Negima.
Applegate then announced two more Attack on Titan spinoff manga: Attack on Titan: No Regrets (debuting in August 2014) and Attack on Titan: Before the Fall (debuting in March 2014). Both will be available in digital and print.
Kodansha then launched into a Q&A to end the panel. When asked about the upcoming Sailor Moon anime series, Middaugh said that the new series will premiere around January, and it will be available streaming on Niconico in 10 subtitled languages.
---
back to New York Comic Con 2013
Convention homepage / archives