Dirty Pair OAV 1 (Dub.VHS 1 of 5)
---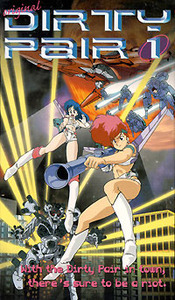 Title:
Dirty Pair OAV 1
Volume:
Dub.VHS 1 / 5
Running time:
60
Distributor:
ADV Films
Release date: 1998-11-11
Suggested retail price: $6.67

UPC: 702727035333 702727035333

Description:
This is the ORIGINAL Kei and Yuri, the gun wielding, Bloody Card throwing Dirty Pair that millions have come to know and love. Who else could destroy half the city in pursuit of a walking arsenal disguised as an android and still call it a victory? Older, sexier and able to cause every bit as much collateral damage as their younger cousins, the original Pair are back at last!

Contains:

Send in the marines! Not that it will help.
When the prisoners at a high security facility riot and take the warden hostage, it's up to Kei and Yuri to rescue him. They'll have a whole squad of marines for support, so it shouldn't' be a problem. Right? Well, this IS the Dirty Pair.

Trick or Treat? With the Dirty Pair, What's the difference?
Working on Halloween was bad enough, but now the Lovely Angels have misplaced a Tactical Assault Android. Time's running out, and they have to find it before its Armageddon Program Kicks in. But how do you find an android in a city full of Mad Hatters, Snow Whites and Ali Baba's thieves?
(added on 2002-08-15, modified on 2002-08-15)