×
remind me tomorrow
remind me next week
never remind me
Subscribe to the ANN Newsletter • Wake up every Sunday to a curated list of ANN's most interesting posts of the week.
read more
Haoliners, Anime, and the Future of Chinese Animation
by Kim Morrissy,

It is often said that China has a huge impact on the Japanese anime industry. Although the Chinese government has had a habit of restricting access to anime titles even in recent years, the anime market in China was said to be worth more than 21 billion USD in 2017, and that number is only growing. In addition, according to the Japan Animation Creators Association's 2016 report, China is second only to the United States in number of licensing contracts with Japan.

It should be no surprise, then, that the number of Chinese-Japanese anime co-productions has also been on the rise. The most ambitious attempts so far have been helmed by Haoliners, a company founded by Chinese web animators with a passionate love of Japanese anime. International anime fans may be familiar with their work through their Japanese broadcasts; Haoliners-produced shows stream online in China and air on Japanese TV.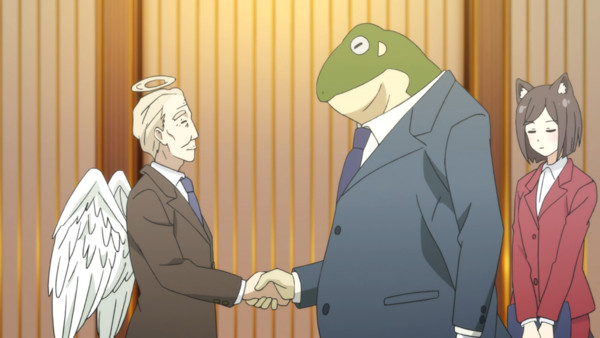 Haoliners is a shockingly young company considering how sprawling its operations are; it was founded in 2013 and has studios in Japan and South Korea. The company is also remarkably prolific, with over ten TV anime productions under its belt already. Haoliners has achieved this level of output thanks to the global nature of its productions. They constantly collaborate with studios in Japan and abroad in order to produce multiple shows simultaneously.
Yet for all of their ambitions, Haoliners has failed to live up to their potential so far, at least as far as Western audiences have been concerned. Within China, Haoliners is something of a household name among animation fans, but their shows have reached a muted reception in the West. Even here on Anime News Network, only A Centaur's Life received enough votes from readers to receive weekly streaming reviews. Part of the lack of interest stems from the fact that most of the shows are adapted from Chinese novels and manhua. Without any familiarity with the source material, Western viewers must treat the adaptations like anime-original shows - but without any big-name creators that could attract their interest.

However, a bigger reason behind the disinterest in Haoliners is that the production quality of their shows is inconsistent at best. Their worst shows are often taken to be representative of their entire output when it's actually very difficult to generalize about how their show are produced. For example, some shows like A Centaur's Life were contracted entirely to a Japanese studio, meaning that Haoliners was primarily involved only in the planning and funding side of the anime. Other shows like Fox Spirit Matchmaker were mainly juggled between Haoliners's Chinese and Korean teams. (For more information about where and how each Haoliners show was produced, see this article.)
Outsourcing only further complicates matters. Bloodivores, for instance, was contracted to a Japanese studio, but the actual animation work was outsourced to a Korean studio called Namu Animation. This kind of arrangement isn't unusual for foreign-led anime co-productions. Neo-Yokio, for instance, was supposedly made at Studio DEEN, but in truth Deen only drew some storyboards and sent off the grunt work to Moi Animation in Korea. Many of the biggest Japanese anime studios are fully booked years in advance, so unless the contractor is already well-known in Japan or has strong relations with Japanese studios (like Crunchyroll does, for instance), then a foreign co-production is likely to be outsourced wholesale.

All of this outsourcing has a definite negative impact on animation quality, and it probably doesn't help that there's a tendency within the Western anime fan community to think of Chinese animation as somehow lesser than Japanese animation, despite China's growing expertise in CG animation. Many Chinese studios work with Hollywood, and one of China's top-grossing films in recent years was a full CG feature in 2015 called Monkey King: Hero is Back. Yet in the realm of 2D animation, China is forever playing catch-up to Japan.
However, it would be a lie to say that China lacks talented 2D animators. 2016 saw the release of Big Fish & Begonia, a Chinese-Korean collaboration film that is also China's second-highest-grossing locally produced animated feature of all time. But China's domestic 2D animation industry still lacks the structure and training systems that exist in the Japanese industry, resulting in a talent leak. Many individual animators come to Japan to study or work in the industry, such as the Naruto animator Cheng Xi Huang or the Haikyuu!! animator Boya Liang.

In this sense, Haoliners is finally building the foundations for China's domestic 2D animation industry by creating a space for its young animators to learn directly from the work of Japanese animators on a large scale. They are also producing work according to the strict schedules of Japanese TV animation. When you focus solely on the Haoliners shows with mainly Chinese animation staff, you can see their work improve noticeably over the course of a single show, as the animators become more acclimatized to the demands of TV anime.
For those interested in Chinese animation, here are two of the most notable Haoliners productions to date:

The first season is absolutely dire. The second season looks like a completely different show, which is not a surprise since the staff was changed over entirely. The first season was outsourced almost entirely to the South Korean studio Namu Animation, while the second season was handled by Haoliners's Chinese and Korean studios. By working in-house, the staff was able to keep the animation consistent with the designs (a low bar that the first season did not even clear) and even produce some great-looking action scenes.
This doesn't mean that the second season of Hitori no Shita is perfect, however. It might boast some more impressive effects animation, but aesthetically, it's still not very distinctive among other action anime of its genre. And the compositing has its faults too, resulting in some awkward CG animation integration at times. But it cannot be overstated how much of an achievement the second season is as a whole.

TO BE HERO is the most visually interesting Haoliners show to date. It's also an original anime, written and directed by the president of Haoliners, Li Haoling. Despite the proliferation of dirty jokes, the story has a big heart. The animation was handled by a small and tight-knit team of Chinese web animators, called STUDIO.LAN! after the lead animator LAN, who handled the character designs, animation direction, and color coordination.
The Japanese adaptation was headed by Shinichi Watanabe (known affectionately as "Nabeshin"), who is known primarily for directing the bawdy comedy Excel Saga. The original Chinese version of the show is better than Nabeshin's adaptation, though, and even has a different ending that's more in line with the show's themes of fatherhood. TO BE HERO isn't for everyone, but as a statement of artistic ambition and creativity, it cannot be denied.

There's even more to anticipate from Haoliners in future, now that the company has recently announced a collaboration with CoMix Wave Films, the studio behind Makoto Shinkai's films. Li Haoling himself is directing one of the shorts and is credited as the overall director of the project. To say nothing else, this development is intriguing. Will Haoliners finally gain the level of fame and attention from Western anime fans as it does in China?
Thanks to Widad Noureddine from Emon Haoliners for fact-checking and assistance.
---
discuss this in the forum (43 posts)
|