Interest

Miyazaki Supervises Bandai's Nausicaä Gunship Model

posted on by Gia Manry
"Formania" Gunship model due in February 2011
---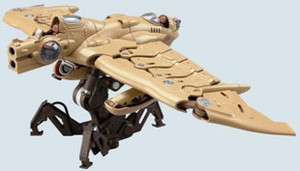 Toy manufacturer Bandai has announced on Thursday that it is developing a "Formania" completed model of the Gunship fighter which appears in the 1984 Studio Ghibli film Nausicaä of the Valley of the Wind. Hayao Miyazaki, writer/director of the original film, is supervising the development of the model himself.
The figure, due in late February of 2011, will feature wings which can fold in or spread out like a bird's feathers to a full 310-millimeter wingspan (about 12.2 inches). It will also have moving wing fins, air ducts, "legs," and cockpit canopy, as well as an exclusive display stand, designed as if it came from the post-apocalyptic world of the film. The retail price for the model will start at 10,500 yen (US$126).

Bandai's Formania line of display models launched this past March with a bust of Amuro Ray's RX-93 Nu Gundam unit which appears in Mobile Suit Gundam: Char's Counterattack. The line is devoted to models with a high level of design and detail.
Miyazaki based the Nausicaä of the Valley of the Wind anime on his own 1982-1994 manga of the same name. The film was released in North America in 1985 under the title Warriors of the Wind, and re-released in unedited form in 2005. This past July, Nausicaä was released on Blu-ray Disc in Japan with seven language soundtracks.
Source: animeanime.jp
Images © Nibariki
---