Interest

Anime Japan 2015 Goes Traditional with Official Character Goods

posted on by Eric Stimson
---
Anime Japan 2015 will go traditional with its official character goods, offering attendees a taste of Japan's classic ceramic styles with anime characters or anime-inspired designs included.
These cup and saucer sets have motifs inspired by Archer and Saber of Fate/stay night. They are fired in the style of Shikoku's Ōtani pottery and priced at 6,900 yen (or $58).

This teacup celebrates Chibi Maruko-chan, depicting the title character with her grandfather Tomozo. It includes a quote from Tomozo about friendship. It is fired in the Arita pottery style from Kyushu and priced at 3,300 yen (or $27.50).

The new anime Gugure! Kokkuri-san is honored by these chopstick rests fired in the archaic Shigaraki style of Shiga Prefecture near Kyoto.

Other traditional Japanese objects of art with anime designs are planned to make an appearance. Look for a Girls und Panzer cup fired in the style of the Kasama school as well as a metal folding screen and daruma (a round doll with blank eyes) based on Mobile Suit Gundam.
Other interesting anime character goods available at the convention showcase unusual swaps. These rubber straps show Fate/stay night's Saber and Arisa of the upcoming anime God Eater holding each other's weapons.

These acrylic straps show Piyo-chan of Uta no Prince-sama and the tanuki from Monthly Girls' Nozaki-kun inexplicably wearing costumes of each other. They come with small rings that let you clip them together into a single strap.

Anime Japan will also have 30 different badges featuring anime characters that can be bought as gachapon (random prizes) for 300 yen ($2.50) each.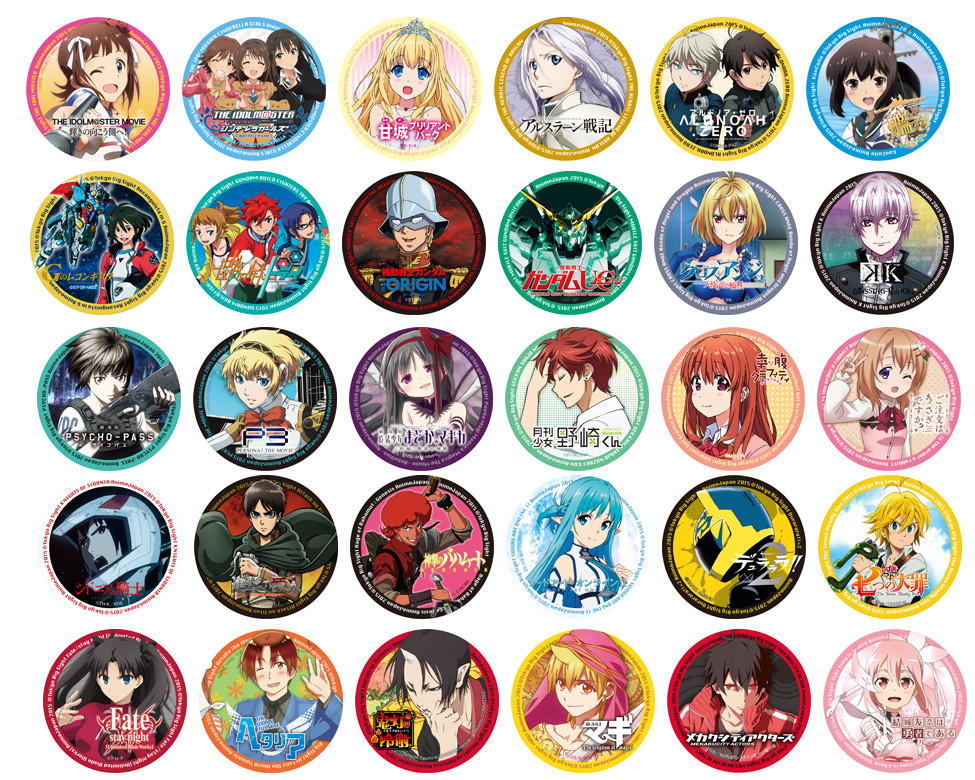 Anime Japan 2015 will be held from March 20 to 22 at Tokyo Big Sight.
[Via Anime! Anime! and Anime Japan 2015]
---