Interest

Yowamushi Pedal Voice Actors to Compete Against Each Other on Their Own Bicycles (Updated)

posted on by Carlos Cadorniga
Crunchyroll sponsors its own Sohoku High School Bicycle Club racers in California
---
The cast of the bicycle racing anime Yowamushi Pedal have made a special announcement. Six members of the cast will be competing with their own bicycles, emulating their bike-riding counterparts in the anime.

The Japan Cycle Sports Center is hosting the voice actors in their own teams that line up with their respective roles. The cast members participating are Daiki Yamashita who plays the protagonist Sakamichi Onoda, Showtaro Morikubo who voices Yuusuke Makishima, and Kentaro Ito who plays Jin Tadakoro; they represent the anime's Sohoku High School Bicycle Club. From the Hakone Academy team, the voice behind Sangaku Manami—Tsubasa Yonaga—is racing as well, along with Yasumoto Arakita's voice Hiroyuki Yoshino. Hirofumi Nojima, the voice of Koutarou Ishigaki, is the only one representing the show's Kyoto Fushimi High School.
The cast will appear on a special program airing on J-Sports. The program will also introduce the Tour de France race in June and the Vuelta a Espana race in August.
The online streaming service Crunchyroll sponsored its own biking team in Sohoku High School Bicycle Club jerseys at the California Classic Half Marathon that was held on May 16, finishing the 60-mile race in 3 hours and 4 minutes. Racers included David Liu and cosplayer CNFNKY.
So proud of our Crunchyroll Sponsored team riding in the California Classic! pic.twitter.com/9n4dt2nqgg

— Crunchyroll (@Crunchyroll) May 16, 2015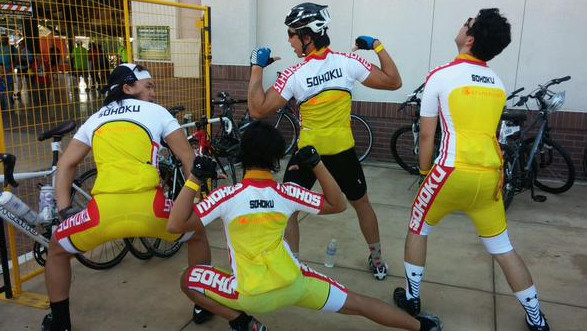 Source: Comic Natalie
Update: The voice actors are not competing in the Tour de France and Vuelta a Espana, but in their own races. Thanks, kgw, Aster Selene, and ansmdgotl1818.
---