×
remind me tomorrow
remind me next week
never remind me
Subscribe to the ANN Newsletter • Wake up every Sunday to a curated list of ANN's most interesting posts of the week.
read more
Interest

Cowboy Bebop Café Serves the Infamously Bad Food From the Series

posted on by Kim Morrissy
The protagonists of Cowboy Bebop weren't known for eating well. Due to their perpetual poverty, the crew was often forced to scrounge around for scraps and sate their hunger on some infamously bad dishes. (Mushroom Samba, anyone?)
This must have posed a challenge for the organizers of the Cowboy Bebop collaboration café, which is currently running in the Goodsmile Animate café branches in Tokyo and Osaka. If Cowboy Bebop is famous for its unappetizing dishes, how do you create a menu that is recognizably inspired by the series without also recreating a terrible dining experience?
Their answer, from my experience eating at the café, was to recreate the aesthetic without the same ingredients. This is a fairly typical approach for collaboration cafés, which tend to have a much stronger focus on presentation than anything else.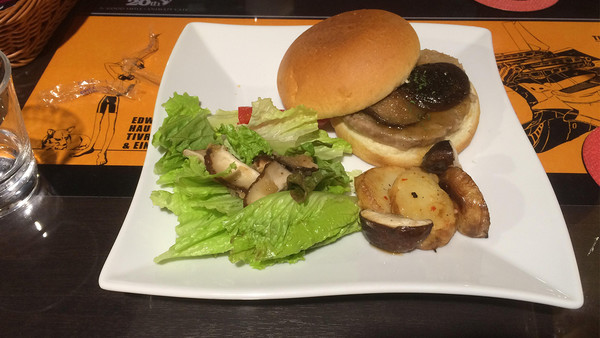 In the case of the Mushroom Samba, for instance, it was presented as a burger, complete with beef inside the patty and a side of salad and potatoes. Certainly a far cry from raw mushrooms that cause hallucinations.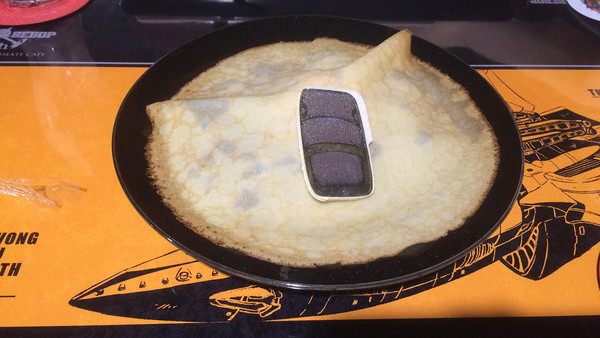 The Fridge Monster from episode 11 was also a dish that could be eaten, although in reality the inside of it is just coffee jelly instead of anything other-worldly. It makes for an unusual dessert dish but not anything that's actually repulsive.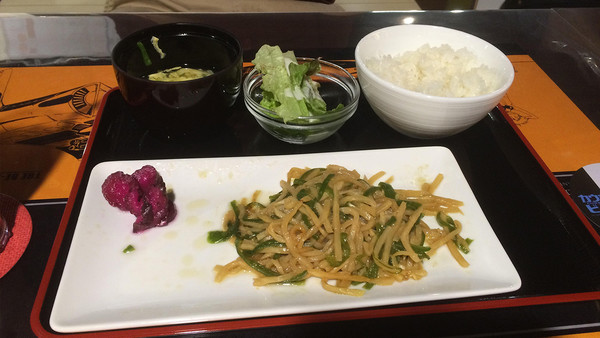 The Bell Peppers and Beef plate comes without the beef, but for 300 yen you could add the beef. However, at that point, it wouldn't be the dish from the show anymore, so a lot of people chose to eat it without the beef anyway.
It's probably to be expected that the dishes that most closely resembled the anime counterpart didn't taste as good as the original dishes that only had a Cowboy Bebop-style cosmetic spin to it. For example, "I Warned You!" parfait was a conventional dessert dish made of chocolate fudge, ice cream, and pudding, that only had the teddy bomber decoration on it.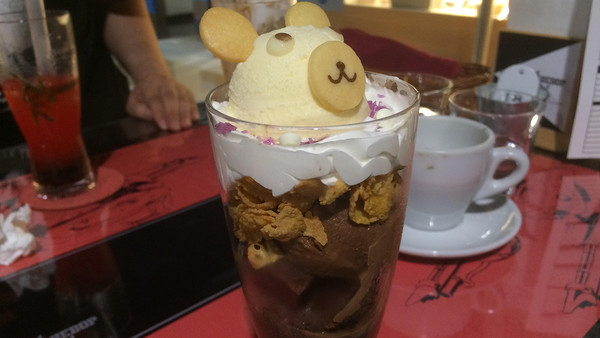 While I am glad that I wasn't eating as poorly as the Cowboy Bebop characters, I do have to admit that the food was overall of average quality for an anime collab café, which is to say that it's appetizing enough, but undeniably overpriced for what it is.
One might say, "What's the point of going to the Cowboy Bebop café if the themed food itself wasn't actually that good?" Arguably, the bigger draw was the merchandise, all of which was produced specifically for this café, which celebrates 20 years of Cowboy Bebop. Given that Cowboy Bebop was more of a cult classic in Japan and wasn't popular when it first aired, there is a shortage of Cowboy Bebop merchandise, which this café has set out to rectify. The merch line was busy throughout the entire session when I attended.

There was a variety of trinkets and character goods on sale, although arguably the most interesting line of merch was the Zippo lighter engraved with Spike's portrait for 10,000 yen. The lighters were only available for pre-ordering during the café period, as they are to be sold on a made-to-order basis.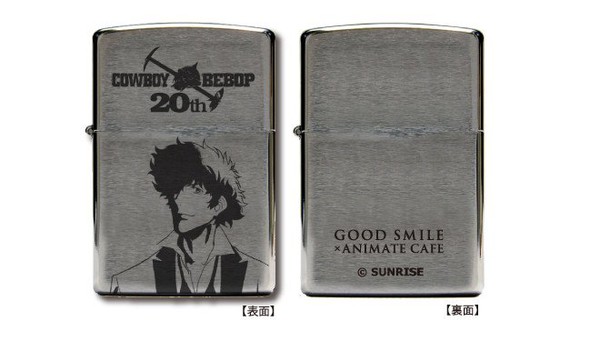 Another draw to the café was all the new artwork which decorated the café. Seeing the Bebop crew in formal attire in the key visual was very gratifying, and there was more artwork to admire in the café itself.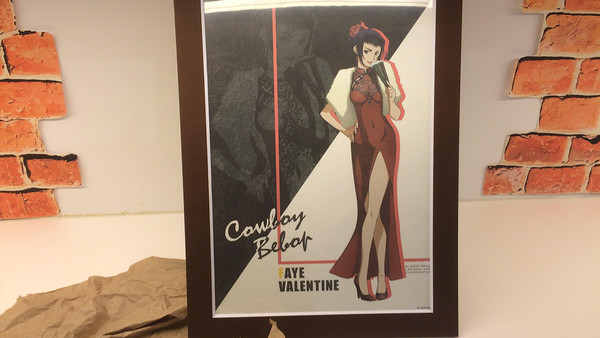 Character designer and chief animation director Toshihiro Kawamoto left his signature on a bromide, which was showcased inside a glass case.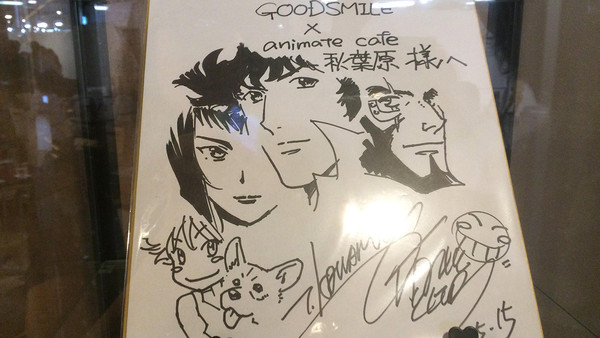 And finally, the atmosphere of the café was very much improved by the presence of Yoko Kanno's soundtrack for the series, which played in the background as I ate. If you can accept that the food is generally priced higher than it's worth, the café experience itself was pleasant.
Note that there's both a lunch menu and a dinner menu, each with different options. You also receive a coaster with a randomized visual on it for each dish you order, including drinks. (There are 12 possible types of coasters to obtain.) I only tried the lunch menu, but perhaps some dedicated Cowboy Bebop fans may benefit out of trying both menus.
The Cowboy Bebop collaboration café runs from May 15 to June 10.
---