Interest

Model Kit Close-Up: Bandai's Voltron Super Mini-Pla

posted on by Lauren Orsini
Model kit provided by Bluefin Distributors.

Never has my impression of a kit changed so dramatically before and after assembly as with Bandai's new Voltron kit. It's the same quality and difficulty level as a Gundam kit from Bandai's High Grade (beginner difficulty) line, but with way more parts to assemble. It takes a long time and involves a lot of repetition as you go lion by lion, and I found it tedious.

However, the payoff was amazing. All that work results in a kit that can be displayed either as five independently poseable lions or all together as Voltron, and it takes an easy five minutes to switch from one form to the next. Perhaps because of the sheer number of parts of this thing, it's heavy for plastic, which results in top-notch articulation and balance. I went from complaining to raving about this kit once I saw that all that repetitive assembly was for a very good reason.
Follow along with me to find out why this kit initially left me frustrated before winning me over.

Retailing around $50, this kit comes with a lot of parts to make it worth your while. Unboxed, it covers up my entire workspace with its pieces. The worst part is that there doesn't seem to be any rhyme or reason to the packaging.

There are separate instructions for assembly of each lion, and they are numbered to tell you which order in which you should build them. To build the Black Lion, I needed 1-A, 1-B and so on, and to build the Red Lion, I needed 2-A, 2-B and so on. That's fine and all, except those parts are not packaged together, so I had to unwrap everything to go on a scavenger hunt.

Above, I've collected a bunch of pieces needed to construct the Black Lion alone. These were all in separate plastic wrappings, mixed up with pieces for other lions, and not by color or anything. It helps to divide everything up by label and keep the related pieces next to the instructions with the same number while you're building.

Every time I do a build-along, I like to get a photo of my sprue-cutting technique. Here, I'm using my nippers to cut a centimeter away from the piece. Once it's cut out and I have more leverage, I then make secondary cuts flush against the part. This reduces the chance of "stress marks," which are those white spots caused by plastic warping on colored pieces.

There are a lot of stickers on this kit. Like most modelers, I'm not a fan of stickers. You get one attempt to make them look good and you either succeed or you flub it. These lions are absolutely covered in stickers.

I always use tweezers to apply stickers. The natural oil on the pads of your fingers can make stickers lose their adhesion. Plus your big, stubby fingers aren't as accurate and these tiny stickers require a lot of precision that is easier to get when you use tweezers.

The chest plate is a great example of the precise stickering you'll need to do along the way. The black lion head that's also in this photo doesn't even have all of its stickers on yet!

This is the completed black lion. It has some pretty odd proportions, including a long neck and a body that feels big compared to the size of its head. Naturally, these oddities have a lot to do with the fact that it is fully transformable, so wait a little longer for the payoff.
In general, the lions don't look as good on their own as they do assembled into Voltron. I think this is because the legs for each are fairly simple—they are even hollow on the inside. The legs detach fully when it's time to transform into Voltron.

This is the Red Lion all prepped to form Voltron. Notice that it even has a different, larger head for the transformation form! All the legs come off and are replaced with shiny silver caps.

Not much is different about the Green Lion, but each lion is different enough that you have to use different instructions to assemble each one. You could alternate the legs on Red and Green, but they have different shoulder-mounted accessories so you'd notice you messed up.

Here is the Green Lion assembled as an arm. Once again, we replace the lion-form head with a special Voltron-form head and replace all the legs with caps.

The Blue Lion transforms into a leg, so it's a lot bulkier than Red or Green.

Here's the Blue Lion ready to become a leg, with all the pieces it's not using around it.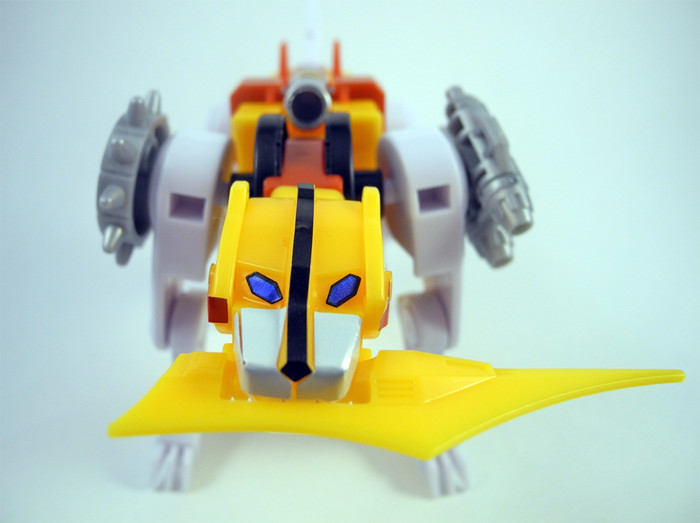 Here's a close-up on the muzzle of the Yellow Lion so you can see that it mostly gets its look from stickers. Not my finest sticker work, here.

The body bends over the head to create the leg form. Notice how the tail folds in two to be tucked into the body. Yellow is very sturdy and adds to Voltron's impressive poseability.

Here are the pieces ready to be assembled into Voltron. Notice that only the Black Lion keeps its legs, which then click into place inside Yellow and Blue. Also, Black's mouth opens up to show the Voltron face (already fully painted) hiding inside the whole time.

This is the form in which this kit is most impressive. It so easily clicks into place and stays there. For all its pieces, it isn't fragile and doesn't topple easily. The lions may look pretty cheap on their own, but the fully assembled Voltron does not. It also helps that it comes with these neat pre-cast chrome weapons. I should note that I didn't even build all of the weapons that it comes with here: there is also a gun with all the Lions' blades mounted on.

Here is how the kit looks from behind. Note the Black Lion's tail tucked away between the wings.

Initially, this kit was a headache. So many complicated, repetitive steps to turn these unorganized pieces into five lackluster lions. But when it's time to transform, the payoff is intense and near-immediate. I spent a lot of effort up front, but it turned out that was all for a good reason: to make the transformation as easy as a few clicks into place.
Overall, this kit took me a week of on-and-off work to assemble, and I think an experienced modeler could finish the whole thing in four hours. If you don't mind stickers and are willing to put in the work up front, this is a colorful and action-ready take on Voltron sure to brighten up any collection.
---