Interest

Rider Becomes a Jockey in Fate/Stay Night 8-Bit Side Scrolling Game

posted on by Kim Morrissy
The Rider class from the Fate/stay night series has always been somewhat peculiar. Despite the fact that they're called "Rider," they're almost never shown to be riding anything. But that has changed thanks to Fate/stay night's recent collaboration with the Japan Racing Association.

To promote the upcoming Fate/stay night: Heaven's Feel II. lost butterfly, the second film of ufotable's anime adaptation of Fate/stay night's "Heaven's Feel" storyline, the series has launched a collaboration website with the Japan Racing Association. The website offers two free-to-play games: Run! Run! Rider! and Escape From Racecourse.
Run! Run! Rider! is based on 8-bit side scrolling game called Run! Run! Lancer! that was a shop-exclusive bonus for the Fate/stay night: Heaven's Feel I. presage flower Blu-ray. In the game, you chase after The True Assassin while destroying and avoiding obstacles. The game was developed by team ladybug, which also developed the free-to-play Shin Megami Tensei: Synchronicity Prologue PC game. Although the game is only in Japanese, the controls are simple and use only the directional keys.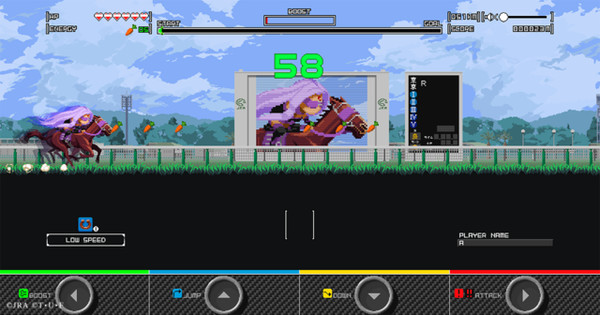 Escape From Racecourse is a puzzle game. The player is an unwitting bystander to the Grail War, and has found themselves trapped inside the racecourse. To escape you must solve puzzles within a time limit. The presentation of the game is similar to a visual novel and requires a reading-level knowledge of Japanese to complete.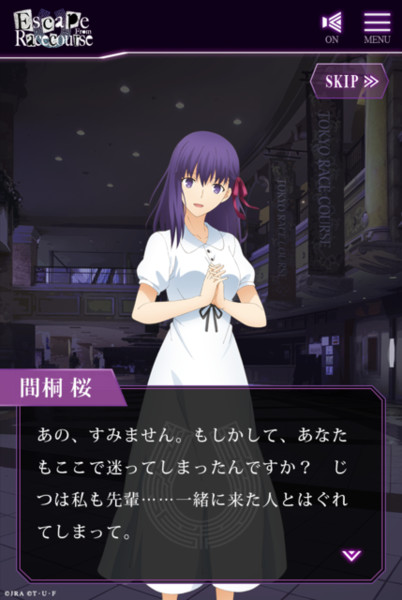 Players who clear the games at least once between November 22 and January 31, 2019 will enter a drawing. One winner of Run! Run! Rider! will receive e-money worth 50,000 yen (US$440), and five winners of Escape From Racecourse will receive e-money worth 10,000 yen (US$88) each. If you use one of the share buttons to post your game on social media, you will receive a link to a downloadable wallpaper showing the characters in super-deformed form.
Fate/stay night: Heaven's Feel II. lost butterfly will open in Japanese theaters on January 12, 2019.
Source: MoCa News
---