×
remind me tomorrow
remind me next week
never remind me
Subscribe to the ANN Newsletter • Wake up every Sunday to a curated list of ANN's most interesting posts of the week.
read more
Interview: The Cast and Crew of A Lull in the Sea

Kana Hanazawa

by Zac Bertschy & Viewers Like You,

Voice Actress Kana Hanazawa

From Anonymous:

Compared to other shows you voiced for, how was working on Nagi no Asukara different? Did you feel any personal connection to the story or characters? 
It makes you think not only about the relationships between the characters but also other topics, such as environmental and ethical issues. The series stimulated my emotions.

From "Mayline":
What are your personal thoughts on your character Mukaido Manaka? Did you like her/dislike her?

At the beginning, Manaka seemed somewhat indecisive, and she didn't really know that much about herself. I feel like I was a lot like her during my student days.

From "Rika":
What did you enjoy the most when working on Nagi no Asukara? Manaka seems like a very entertaining character to play.
I really enjoyed imitating the fish face. Also, acting like Manaka when she lost the emotion of "love" was fun, but at the same time it was difficult. The whole time I thought about what "love" specifically meant to Manaka.
From "Rika":
Do you like the sea as much as your character does in Nagi-Asu? I wasn't a fan of the ocean before watching Nagi no Asukara, but the anime made me appreciate the vast sea more than ever. 

Rather than the sea, I was raised in a place where I was more familiar with the mountains, but if I was able to go to the world of A Lull in the Sea, I'd like to try living in the sea.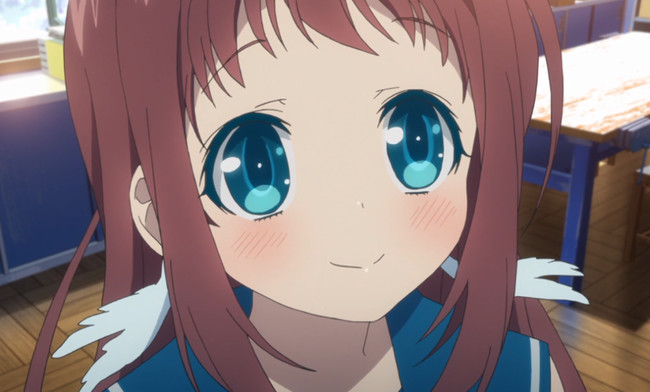 From "Rika":
You've been so active in the anime industry these past few years; it seems like you're never able to catch a break! Is there anything specific you like to do to unwind and settle down after a busy day?
I like bread, so I like to go around and visit bakeries. At home, I watch Japanese comedy shows. I really love the Yoshimoto comedy show.

From "Rika"
It's no secret you've voiced hundreds of characters—some slightly crazier than others. Have you come to enjoy portraying certain types of personalities more than others? For example, you voice the clumsy and shy Kosaki Onodera in Nisekoi, which is a sharp contrast to the bloodlust of Rize Kamishiro from Tokyo Ghoul. Is it fun to play the villain for a change?
As long as there's a studio to enter, there will always be a wonderful staff and cast working together to create the piece, so I build each character as I receive help from those wonderful people. For A Lull in the Sea, there were many times where the director taught me a lot about Manaka.
---
discuss this in the forum (19 posts)
|
this article has been modified since it was originally posted; see change history
back to Interview: The Cast and Crew of A Lull in the Sea
Interview homepage / archives