×
remind me tomorrow
remind me next week
never remind me
Subscribe to the ANN Newsletter • Wake up every Sunday to a curated list of ANN's most interesting posts of the week.
read more
News

Kindaichi Creator, Gundam Designer Animate Kihei Senki Legacies (Updated)

posted on by Egan Loo
---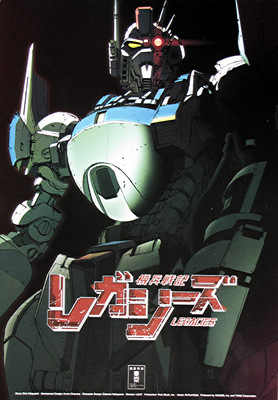 The Anime Innovation Tokyo (AIT) production company has announced at Tokyo International Anime Fair on Friday that it is producing a new 52-episode television anime series called Kihei Senki Legacies. Story creator Shin Kibayashi (Bloody Monday, Kindaichi Case Files), mechanic designer Kunio Okawara (Mobile Suit Gundam, Armored Trooper Votoms, Yatterman), character designer Daisuke Nakayama (Tweeny Witches), and musical composer ReTurnTable (Transonic, Tanzmuzik) are collaborating on the science-fiction adventure robot anime with director UGAT.
Update: Trick Block, Inc. (Cavity Express) is producing the anime. AIT is THINK Corporation and the Tokyo Metropolitan Government's joint venture that sponsored last year's Cencoroll. AIT describes the story of Kihei Senki Legacies as the following:
This story is set in Kissyo City, an urban zone with a vaguely unnatural atmosphere, though reminiscient of a typical modern Japanese suburb. The city is one of several oasis districts around the world that are dying due to the consequences of wars in the previous century. In the past, many large-size robots were created during wartime, though due to constant battle none have survived intact. Only the deformed and customized robots remain. These relics robots [sic] from past wars are called Legacies. Underneath the veneer of a calm and peaceful oasis. Kissyo City is being targeted by a dreadful armed group, who steal resources and the 'secret' of the city. Simone, the mayor and commander of the defense forces, rises the occasion with determination, hiring 5 rogues who can operate the Legacies in defense of the city. Together they decide to counter the threat using their 'trump card', Ω99 (Omega Double Nine), a unique series of military robot that has been lying dormant for an age. Using their 'mind', each robot selects the pilot who should operate them. Only those who can 'synchronize' with these robots can board them, hence the pilots are called Synchronizer. Out of all of the combat robots, Ω99 is the most challenging to pilot, requiring the highest level of operational skiils. Ω99, the final hope of the defense forces selects an average teenage boy called Yamato, as the synchronizer; a character who is unaware of the dangers approaching the city; a good-for-nothing who's only apparent skill is at playing games.
---