News

Hetalia Promo Videos, Birdy English Cast & Promo Posted

posted on by Jacob Browning
---

The North American anime distributor
Funimation
began streaming promotional videos for
Hetalia
and
Birdy the Mighty: Decode
on the
YouTube
website this week. Videos include a Hetalia (pictured at right) Season Two
trailer
and a Season One
promo
that focuses on the character Sealand, as well as a Birdy the Mighty: Decode (pictured below)
trailer
.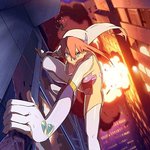 Along with the trailer, Funimation
posted
the English
dub
cast of Birdy.
Luci Christian
, will voice Birdy, an interstellar federation agent, and
Micah Solusod
will voice Tsutomu, a high school student who has his mind hosted within Birdy. The rest of the cast is as follows:
Tuto:
J. Michael Tatum
Bacillus:
Chris Ayres
Sayaka:
Brina Palencia
Natsumi:
Cherami Leigh
Irma:
Wendy Powell
Gomez:
Newton Pittman
Geega:
John Swasey
Hetalia Season One will be available on DVD on September 14, and Season Two will be available on DVD on October 12. Birdy the Mighty: Decode will be released on DVD on October 26.
Funimation began
streaming
the first two episodes of the ongoing Okamisan (
Ōkami-san to Shichinin no Nakama-tachi
) television anime series at 1:00 p.m. EDT on Wednesday, and it will launch its streaming of
Blessing of the Campanella
(Shukufuku no Campanella) on 2:00 p.m. EDT on Friday.
---
Hetalia Season One Promo


Hetalia Season Two Trailer


Birdy the Mighty: Decode Trailer

---