News

Welcome to the N.H.K. Scheduled for Janaury by MVM

posted on

2011-09-09

08:56 EDT by Andrew Osmond
Black comedy about the mind of a Japanese "shut-in."
---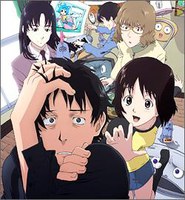 MVM UK will release Welcome to the NHK in January, the company confirmed on its facebook page.
Welcome to the NHK follows Satou Tatsuhiro, a male 22 year-old NEET (Not in Employment, Education, or Training) and hikikomori (meaning acute social withdrawal). He believes everything around him is a conspiracy, including the reason why many people become hikikomori. Due to this, Satou creates a strange conspiracy theory which includes the Nihon Hikikomori Kyōkai (NHK), a secret organization which plans to produce a hikikomori filled world. Satou intends to break free from the NHK's clutches, but cannot, since he finds it too frightening to go outdoors by himself; that is, until he meets Misaki Nakahara, who selects Satou for her "project" that she claims will cure him of his hikikomori ways.
The 2006 TV series is based on the light novel by Tatsuhiko Takimoto, which was also adapted as a manga with art by Kendi Oiwa. The anime version was initially released in English by ADV Films in the USA in 2007, followed by a release this June by Siren Visual.
Image ©2006 Kadokawa Shoten / Welcome to the N-H-K Partners
---