News

FMA Elric Brothers Dub Actors at Birmingham Comic Con

posted on by Andrew Osmond
---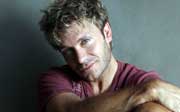 The MCM Birmingham Comic Con has announced that the voice-actors Vic Mignogna (pictured right) and Aaron Dismuke, who dubbed the brothers Edward Elric and Alphonse Elric in the first anime series of Fullmetal Alchemist, will appear at the event. MCM Birmingham Comic Con runs from March 31 to April 1.
Mignogna is a veteran of dozens of anime dubs, including such recent titles as Vampire Knight, in which he voices Zero Kiryu and his brother Ichiru, and Soul Eater, where he plays the Death Scythe, otherwise known as Spirit Albarn.
Dismuke was only twelve years old when he began voicing Al alongside Mignogna's Edward in Fullmetal Alchemist. He later reprised the role in Fullmetal Alchemist: The Movie - Conqueror of Shamballa.
In Fullmetal Alchemist Brotherhood, Mignogna continued to voice Edward, but Al was recast, with Maxey Whitehead taking over the role from Dismuke.
However, Dismuke made a brief appearance in Brotherhood as the young version of the brothers' father, Van Hohenhiem in flashback scenes. His other roles include Oui Kagami in Shikabane Hime: Aka and Shikabane Hime: Kuro, and Ion Fortuna in Trinity Blood.
MCM Birmingham Comic Con will run in Hall 10 of the NEC (directions). Ticket details are avilable here.
---
this article has been modified since it was originally posted; see change history