×
remind me tomorrow
remind me next week
never remind me
Subscribe to the ANN Newsletter • Wake up every Sunday to a curated list of ANN's most interesting posts of the week.
read more
News

Guilty Crown, Shangri-La, Patlabor Released Monday

posted on by Andrew Osmond
---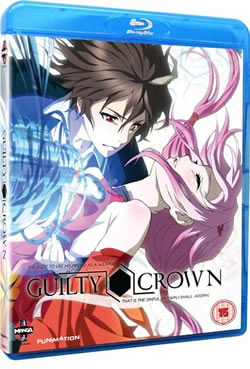 On Monday November 18, Manga Entertainment will release the first half of Tetsuro Araki and Production I.G's Guilty Crown, in both Blu-ray and DVD editions. The TV anime series is set in Japan in 2039, 10 years after the "Apocalypse Virus" devastated the land in an incident known as "Lost Christmas." A multinational orgnization known as GHQ brings the lawless country under control, but at the price of Japan's sovereignty. One day, an unsociable 17-year-old second-year high school student named Shū Ouma encounters Inori Yuzuriha, a female singer who is part of the resistance to liberate Japan. Together with Gai Tsutsugami (Shū's 17-year-old rival who is a young "Jiikundō" pilot in the resistance), Shū and Inori fight with mysterious innate abilities known as "imperial powers."
The series script supervisor was Hiroyuki Yoshino (Macross Frontier, My-HiME), while redjuice, the artist best known as the illustrator of the music group supercell, worked on the original character designs. The group supercell's leader ryo composed the music.

Also on Monday, MVM will release the first half of the Studio Gonzo series Shangri-La. It adapts Eiichi Ikegami's novel about what happens to Tokyo when global warming turns the city into a tropical city in the middle of the 21st century. The staff includes director Makoto Bessho (Ah! My Goddess: The Movie, Armitage: Dual-Matrix), series script supervisor Hiroshi Ohnogi (Arjuna, Noein - to your other self), and character designer Range Murata (Blue Submarine No. 6, Last Exile).

MVM is also releasing Blu-ray and DVD editions of the original OAV version of Patlabor, originally released in Japan in 1988-9. This was the first anime version of the Patlabor franchise, which also spawned a TV series and three feature films. Patlabor is set in a Japan which uses giant robots called "Labors," useful in heavy industry. However, this gives rise to "Labor crimes," resulting in a new branch of law enforcement dedicated to the policing of Labors. When Izumi Noa, a female police officer, becomes the newest recruit, she is swept into a series of adventures.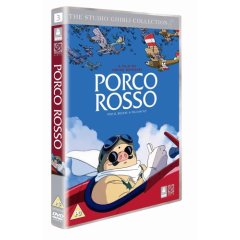 Finally, Studio Canal is releasing a Blu-ray edition of Porco Rosso, Hayao Miyazaki's 1992 Ghibli feature about a fighter pilot who has the face of the pig. (A week later, four of Miyazaki's films are being released as Blu-ray/DVD steelbooks: Nausicaä of the Valley of Wind, My Neighbor Totoro, Howl's Moving Castle and Ponyo.)
---