News

Terra Formars TV Anime Slated for Fall & OVAs to Be Bundled With Manga

posted on by Sarah Nelkin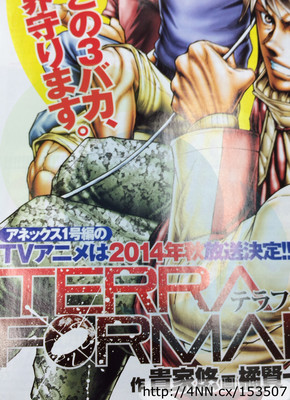 This year's 24th issue of Shueisha's Young Jump magazine is announcing on Thursday that the television anime of Yū Sasuga and Kenichi Tachibana's Terra Formars manga will premiere this fall.
In addition, the magazine is unveiling the details for the upcoming original video animations (OVAs) that will cover the Bugs 2 arc. The two OVA volumes be bundled with the 10th and 11th compiled volumes of the manga in August and November, respectively.
The OVAs cast will star:

Hidenobu Kiuchi
as Shōkichi Komachi
Tomokazu Sugita
as Ichirō Hiruma

Ayako Kawasumi as Nanao Akita
Tomohisa Hashizume as Thien
Rikiya Koyama as Donatello K. Davis


Ayahi Takagaki as Zhang Ming-Ming
Kenjiro Tsuda as God Lee
Nana Mizuki as Maria Viren


Ami Koshimizu as Victoria Wood
Hiroshi Yanaka as Kō Honda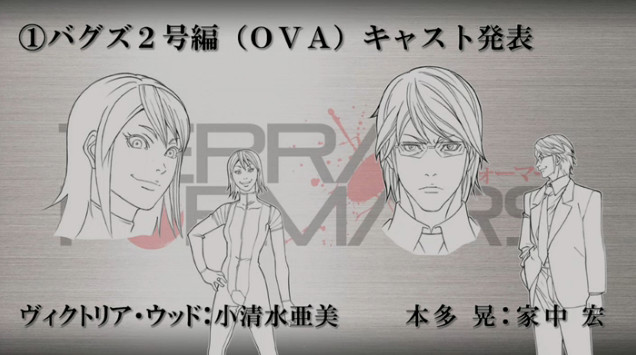 The story of the original manga begins in the year 2577, hundreds of years after scientists sent cockroaches and mold to terraform Mars. However, when the first manned ships land on Mars, they encounter large humanoid cockroaches with great strength, and are wiped out. Humanity then sends elite warriors to Mars to eliminate the cockroaches.
Hiroshi Hamasaki (Blade & Soul, Shigurui: Death Frenzy, Steins;Gate, Texhnolyze) is directing the anime at LIDEN FILMS. Shogo Yasukawa (Hyperdimension Neptunia, Invaders of the Rokujyōma!?) is in charge of the series scripts. Masanori Shino (Black Lagoon, Gungrave, Kurozuka, Shigurui: Death Frenzy) is credited as the main character designer with Satoshi Kimura (Buddy Complex, Horizon in the Middle of Nowhere) also designing characters. Takaharu Ozaki (director of photography on Highlander: The Search for Vengeance, Occult Academy, Senki Zesshō Symphogear) is the assistant director.
---