×
remind me tomorrow
remind me next week
never remind me
Subscribe to the ANN Newsletter • Wake up every Sunday to a curated list of ANN's most interesting posts of the week.
read more
News

Glasslip Anime's 2nd Promo Features Full Cast

posted on by Sarah Nelkin
---
Pony Canyon began streaming the second promotional video for the GLASSLIP television anime on Sunday. The video features the songs "Natsu no Hi to Kimi no Koe" (A Summer Day and Your Voice) by ChouCho and "Tōmei na Sekai" (A See-Through World) by nano.RIPE, which will serve as the anime's opening and ending themes, respectively.
Text: Five high-schoolers who gather at a cafe in a little town.
Sachi: You're really fitting in.
Yanagi: You're so good at business.
Tōko: What's wrong?
Tōko: Are we not going to be friends when we graduate?
Yukinari: Why is that your goal so much?
Sachi: It's sparkling...
Hiro: They say that if you put your wish into words, you'll be able to grant it yourself.
Tōko: It's like... Kaboom!
Text: In a town surrounded by the ocean and mountains, summer comes around, just as always.
Text: It was the summer of the third year of high school that would never come again.
Text: The trigger was one boy.
Tōko: Huh? I can see the future!?
Text: If you could see the future...
Tōko: If you were able to see the future, what would you want to do?
Kakeru: Tōko. On that day, I saw the same thing as you.
Text: Their last summer in high school begins to move.
Yanagi: Romance is forbidden for me...
Yukinari: I'll go and see you no matter how many times.
Yukinari: Is there someone you're in love with?
Yanagi: There's someone I'm in love with...
Sachi: Don't get near Tōko!
Yanagi: If you want to meet up, why don't you?
Hiro: I guess I've got to say it.
Yanagi: I saw that girl.
Yukinari: Did you let them be alone!?
Yanagi: I won't give up.
Sachi: I can't fall in love.
Kakeru: It's not a lie.
Tōko: Just what are you talking about!?
Kakeru: I don't want to lose...
Hiro: It's hard for me too, you know!
Text: Faint feelings
Text: Hidden emotions
Text: Moving hearts
Text: Incurable loneliness
Text: Even if it doesn't reach
Text: Even if it hurts
Text: They're feelings I want to convey.
Text: Believe that both hope and uneasiness will become a future of memories.
Text: The summer to convey feelings is coming.
Tōko: I... I want to see the future!
Text: A romantic and fantastic story that guides tomorrow with meetings.
Tōko: If you could see into the future, what would you want to do?
Hina: Bet on boat races!
The website also announced two new cast members:

Nao Tōyama (The World God Only Knows, Nisekoi) as Hina Fukami, Tōko's younger sister who is on the swim team. She often supports her sister, who is quite bumbling.

Ai Kayano (Guilty Crown, No Game, No Life) as Momo Shirosaki, Hiro's elder sister who is a college student. Her boyfriend is currently hospitalized.
The cast will join: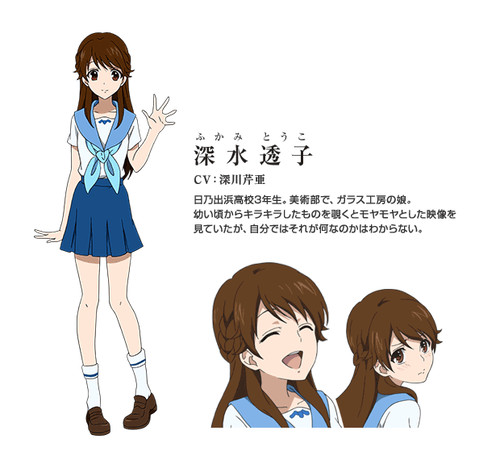 Newcomer 18-year-old Seria Fukagawa as Tōko Fukami, the daughter of a glass workshop

Saori Hayami (Sword Art Online, MM!) as Yanagi Takayama, a girl currently taking lessons to become a model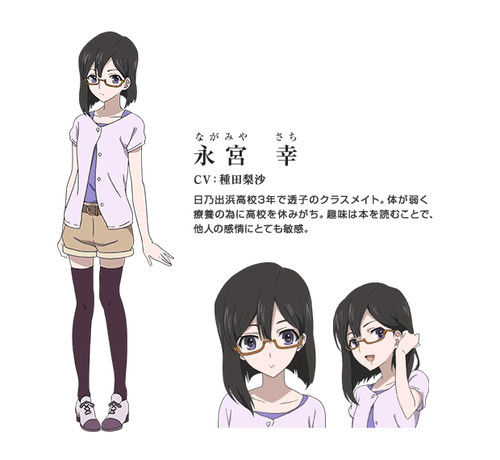 Risa Taneda (Strike the Blood, Yuyushiki) as Sachi Nagamiya, a quiet bookworm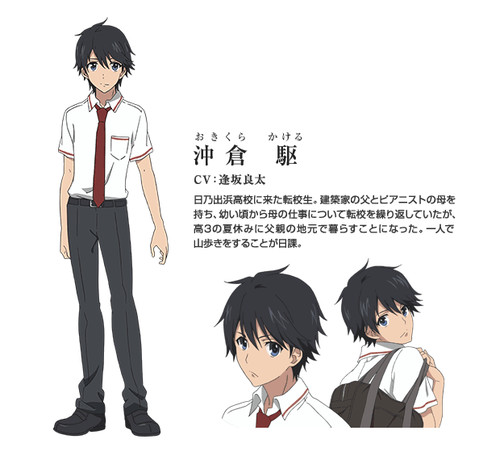 Ryota Ohsaka (The Devil Is a Part-Timer!, Ace of Diamond) as Kakeru Okikura, a transfer student who came for summer vacation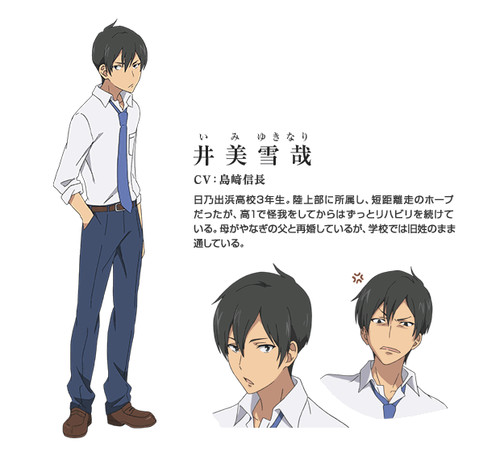 Nobunaga Shimazaki (Free!, Donyatsu) as Yukinari Imi, a track team member currently in rehabilitation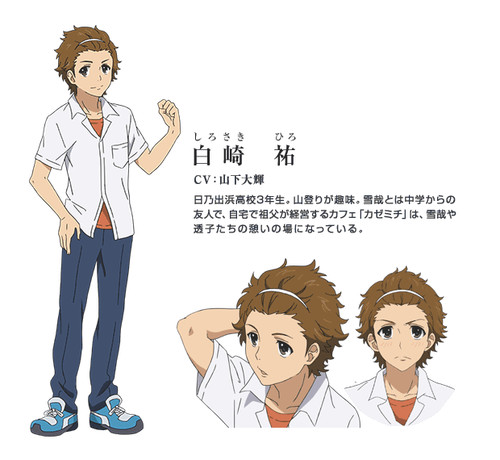 Daiki Yamashita (Yowamushi Pedal, Gaist Crusher) as Hiro Shirosaki, a helper at the cafe "Kazemichi":
The website also posted a new key visual: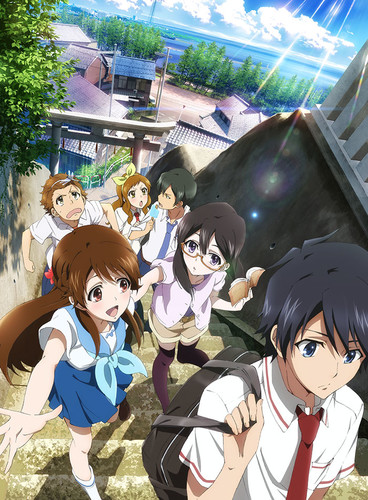 The anime will premiere on Japanese television on July 3.
The story follows six high school students who meet during the summer. The protagonist is Tōko Fukami, a 17-year-old born in Fukui Prefecture. Her dream is to become a glass artisan.
I won't forget the summer we met. The place was a little town tucked in between the ocean and the mountains. There, they met a transfer student. The sun is so dazzling, and the fireworks are so fleeting. A story that starts in summer that six high school students experience.
Junji Nishimura (True Tears, Dog Days') is directing the series with Takefumi Anzai (Hanasaku Iroha - Blossoms for Tomorrow episode director) as assistant director. Rika Satou (Tari Tari) and Nishimura are in charge of the series scripts. Miki Takeshita (Red Data Girl, Yuruyuri - Happy Go Lily animator) is designing the characters, and serving as chief animation director. Akito Matsuda (D-Fragments, Dog & Scissors) are composing the music with the label Lantis.
Toshie Honda is the art director, while Kōsuke Haruta is the 3D director. Naomi Nakano is the color key artist, and Ayumu Takahashi is editing. Kouji Tsujitani is directing the sound, and Infinite is producing.
---