News

Live-Action Black Butler UK Cinema Release Listed

posted on

2014-09-22

02:58 EDT by Andrew Osmond
Film listed for Warner Bros release on October 17; also, second Rurouni Kenshin live-action film listed for November 28.
---

The UK Anime News website reports that the live-action version of Yana Toboso's Black Butler (Kuroshitsuji) manga is listed for a UK cinema release on October 17, on the launchingfilms site. The distributor is listed as Warner Brothers, while the film is rated as '15' on the BBFC website for 'stong violence and gory images.'
While the original Black Butler manga and its anime adaptation are set in 19th century England, the live-action film is set more than 130 years later in 2020, in an Asian city where Western and Asian cultures freely intermingle. Since only males can take the reins of the Phantomhive family, a young woman named Shiori dons male clothes and the name Kiyoharu Genpō to lead the massive Phantom Corporation.
The world Shiori lives in is divided between East and West, and she works as an intelligence operative (nicknamed the Queen's Watchdog) for the Queen of the Western nations, who is trying to unite the world. The Queen tasks Shiori to solve a "consecutive mummified mysterious deaths incident" as well as an incident of the disappearance of a few women. Before long, Shiori manages to discover a "black invitation" that ties the two incidents together, but that invitation leads her to a world she should not have entered, and she is cornered into a dilemma.
The film stars Hiro Mizushima (Zettai Kareshi - Kanzen Muketsu no Koibito Robot) as Sebastian, a demonic "super butler" with impeccable knowledge, manners, grace, cooking skills, martial arts, looks, and more. Ayame Gōriki plays Sebastian's new master Shiori. Like the master Ciel in the original manga, Shiori has a seal in her right eye as a symbol of her contract with Sebastian. Sebastian watches over and protects Shiori, but at a price — he consumes her soul.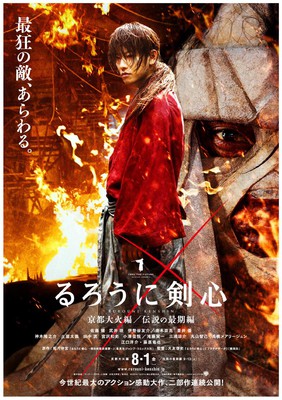 Also according to the launchingfilms site, Warner Brothers will give a limited release to the second of the live-action Rurouni Kenshin films on November 28. Rurouni Kenshin: Kyoto Inferno (Rurouni Kenshin: Kyoto Taika-hen) was the highest-grossing Japanese live-action film of 2014. In the story, Kenshin has settled into his new life with Kaoru and his other friends when he is approached with a request from the Meiji government. Against Kaoru's wishes, Kenshin reluctantly agrees to go to Kyoto and help keep his country from falling back into civil war.
Images © 2014 Yana Toboso / Square Enix
© Kuroshitsuji Film Production Committee
---