News

Funimation's Escaflowne Dub Casts Aaron Dismuke as Van

posted on

2016-03-15

22:45 EDT
---
Funimation's Kickstarter campaign for The Vision of Escaflowne anime series' new English dub posted an update on Tuesday. The update revealed that Aaron Dismuke (Fullmetal Alchemist's Alphonse Elric, Blood Blockade Battlefront's Leonardo Watch, The Heroic Legend of Arslan's Arslan) will voice main character Van Fanel. Sonny Strait will direct the English dub.
The campaign will reveal a new voice actor for the dub at every US$10,000 mark. As of press time, the campaign has raised US$211,120, and has reached its first stretch goal at US$200,000. The release will now include a special feature with the English cast, including interviews and behind-the-scenes footage. The campaign will end on March 31.
The company plans to release the director's cut of the series in HD on Blu-ray Disc, including scenes that were not available when Bandai Entertainment's original English dub was released. Kirby Morrow played Van in Bandai Entertainment's dub.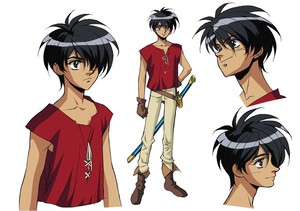 Funimation will also make a new matching dub for Escaflowne: The Movie. Funimation will release both a standard edition and a collector's edition for the series. The standard edition will be a Blu-ray Disc/DVD combo pack, and both discs will have the director's cut with the new dub. The collector's edition will have the new dub on Blu-ray Disc and the old dub on DVD. The release will also include an exclusive interview with director Kazuki Akane and creator Shoji Kawamori.
The rewards for the campaign include pre-orders of exclusive Kickstarter editions of both parts of the release, featuring 13 episodes each of the HD complete uncut version of the series in Japanese with English subtitles as well as the new English dub. The Kickstarter edition also includes exclusive art cards. Other rewards include digital wallpapers, on-disc credit listings, pre-orders of Escaflowne: The Movie, theatrical-sized posters, the series' soundtrack, and collector's edition box sets that feature an art book and an unannounced exclusive item, among others.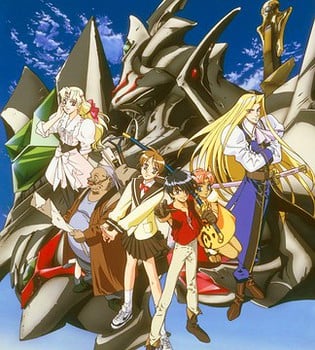 One backer who donates US$5,000 will receive a tour of the Funimation office, a bag of Funimation merchandise, and a chance to do voice work that will appear in the new English dub. This reward has already been claimed.
The campaign's remaining stretch goals include art booklets and foil printing for the Kickstarter edition of the release for US$250,000, and an invitation to meet director Kazuki Akane at an exclusive VIP party at a major U.S. anime convention for US$500,000.
Thanks to Adam for the news tip
---