×
remind me tomorrow
remind me next week
never remind me
Subscribe to the ANN Newsletter • Wake up every Sunday to a curated list of ANN's most interesting posts of the week.
read more
News

Blood Blockade Battlefront, My Teen Romantic Comedy SNAFU Too Released Monday

posted on by Andrew Osmond
---
Update - An earlier version of this story wrongly said that Animatsu was releasing My Teen Romantic Comedy SNAFU today; in fact, it is releasing the sequel, My Teen Romantic Comedy SNAFU TOO!. Apologies for the mistake.

On Monday October 24, Anime Limited will release the series Blood Blockade Battlefront as a Collector's Edition Blu-ray (pictured) and a DVD. (The Blu-ray includes an artbook). Dark Horse Comics, North American publisher of the original manga by Yasuhiro Nightow (Trigun), described the story:
A breach between Earth and the netherworlds has opened up over the city of New York, trapping New Yorkers and creatures from other dimensions in an impenetrable bubble. They've lived together for years, in a world of crazy crime sci-fi sensibilities. Now someone is threatening to sever the bubble, and a group of stylish superhumans is working to keep it from happening.
Rie Matsumoto (Kyousogiga, Heartcatch Precure! Hana no Miyako de Fashion Show…Desu ka!?) directed the anime at Studio BONES. Kazunao Furuya (live-action Liar Game, Galileo, S -Saigo no Keikan-) was the scriptwriter, and Toshihiro Kawamoto (Cowboy Bebop, Wolf's Rain, Golden Boy, Mobile Suit Gundam 0083: Stardust Memory) designed the characters. Shinji Kimura (Project A-ko, Steamboy, Tekkon Kinkreet) was the art director.

Animatsu will release My Teen Romantic Comedy SNAFU TOO! as a Blu-ray/DVD combo pack. The television anime adapts Wataru Watari's Yahari Ore no Seishun Love Come wa Machigatteiru. (My Youth Romantic Comedy Is Wrong, As I Expected).
Watari's romantic comedy revolves around an antisocial high school student named Hachiman Hikigaya with a distorted view on life and no friends or girlfriend. When he see his classmates talking excitedly about living their adolescent lives, he mutters, "They're a bunch of liars." When he is asked about his future dreams, he responds, "Not working." A teacher gets Hachiman to join the volunteer "service club," which happens to have the school's prettiest girl, Yukino Yukinoshita.
Ai Yoshimura (episode director on Gintama', Oreimo) directed the series at Brains Base, while Shôtarô Suga (Ghost in the Shell: Stand Alone Complex, Lagrange - The Flower of Rin-ne) supervised the scripts, and Masaru Shindō (animation director on Penguindrum, Sengoku Collection) handled character designs.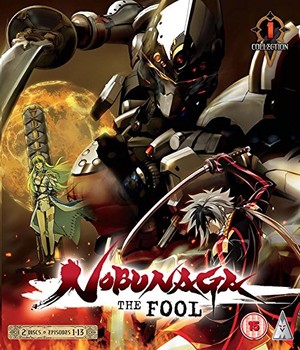 MVM will release Nobunaga The Fool on both Blu-ray and DVD. Sentai Filmworks described the story:
Long ago, in an age when the cosmos was still known as Chaos, the world was split into two planets, forming the West and East Stars. After years of war and strife, the Western Star has finally become united under a single king, the legendary Arthur. But conflict still threatens to consume all until hope arises in a vision: a vision of a champion who could save the futures of both worlds.

Setting forth on a dangerous journey, Joan d'Arc must travel from the West world to the East, seeking the man she believes can use the devices of the great Leonardo Da Vinci and become their savior. But will Nobunaga Oda be the kind of man they are expecting? Will history's greatest heroes find themselves choosing not a liberator, but a destroyer? Or is Nobunaga's role that of the Fool from a deck of Tarot, the wild card whose purpose is to invoke change, no matter what the cost?

Manga Entertainment will release Pokémon the Movie: Hoopa and the Clash of Ages, on both Blu-ray and DVD. The Pokémon Company described the film's story:
The 70-minute animated movie takes Ash, Pikachu, and their friends to a desert city by the sea. Here they meet the Mythical Pokémon Hoopa, which has the ability to summon things—including people and Pokémon—through its magic rings.

After a scary incident, they learn of a story about a brave hero who stopped the rampage of a terrifying Pokémon long ago. Now, the threat that has been bottled up for years is in danger of breaking loose again! Can Ash help his new friend overcome the darkness within…or will a dangerous secret erupt into a clash of legends?

Anime Limited will release a new Steelbook Blu-ray edition of Satoshi Kon's psycho-thriller Perfect Blue.
---
this article has been modified since it was originally posted; see change history