News

Yuzo Takada Launches New 3x3 Eyes Manga on Thursday

posted on by Rafael Antonio Pineda
3x3 Eyes
: Kiseki no Yami no Keiyakusha is set 12 years after last battle with Kaiyanwang
---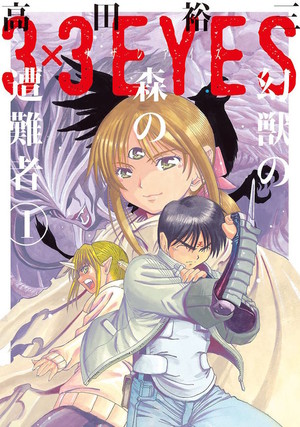 The January 2017 issue of Kodansha's Monthly Young Magazine revealed on Monday that Yuzo Takada is launching a new manga titled 3x3 Eyes: Kiseki no Yami no Keiyakusha based on his 3x3 Eyes manga in Kodansha's E-Young Magazine online manga magazine on Thursday. The manga is set 12 years after the last battle with Kaiyanwang, and will once again center on Pai and Yakumo.
The manga notes that the entire 3x3 Eyes manga franchise has 33.33 million copies in circulation.
King Records previously streamed a video with anime footage of the 3x3 Eyes franchise in September 2015. The video previewed Megumi Hayashibara's then-upcoming 3x3 Eyes single "Samhāra ~Sei Naru Chikara~" (Samhāra ~Holy Power~, with the description noting that the video is related to a "secret" new 3x3 Eyes project under development, and that "Samhāra ~Sei Naru Chikara~" would serve as the theme song for the new content. The description did not detail what format the new content will take.
Takada's 3x3 Eyes manga ran from 1987 to 2002. The manga inspired two OVA adaptations in 1991 and 1995. Hayashibara voiced the role of main character Pai in both OVAs. Takada launched a sequel manga titled 3x3 Eyes: Genjū no Mori no Sōnansha (3x3 Eyes: Survivor of the Forest of Mythical Beasts, pictured above right) in February 2015 in Kodansha's online magazine Young Magazine Kaizokuban, and ended in August. Kodansha published the manga's fourth and final compiled book volume on October 20.
---