News

ID-0 Anime Reveals Promo Video, Story, More Cast, Visual, April 9 TV Premiere

posted on by Crystalyn Hodgkins
---
The official website for ID-0, World Cosplay Summit's original anime project, revealed the anime's television format, additional cast members, character designs, April 9 premiere, story details, and a key visual on Sunday.
Bandai Visual also began streaming the show's first promotional video on Sunday.
The anime will premiere on Tokyo MX on April 9 at 11:00 p.m., and will premiere later that evening on Sun TV, KBS Kyoto, and BS 11.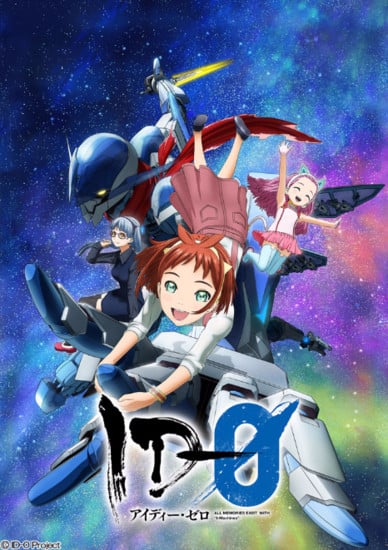 The new cast includes:
Hisako Kanemoto as Clair Hojo


Reina Ueda as Mysterious Girl


Masaya Matsukaze as Rick Ayer


Sayaka Ohara as Karla Milla-Foden


Rikiya Koyama as Grayman


Ari Ozawa as Fa-Loser


Junko Minagawa as Amanza Volchkova


The cast joins the previously revealed cast members:
Kazuyuki Okitsu (Orange's Saku Hagita, Fuuka's Kazuya Nachi) as Ido


Minami Tsuda (Yuruyuri's Yui Funami, Wake Up, Girls!'s Megumi Yoshikawa) as Maya Mikuri


The anime will host a premiere event on March 19 in Tokyo, and will screen the show's first two episodes at the event.
In the story, I-Machines are the general term for robots that operate in extreme environments. While Alliance Academy student Maya Mikuri is in the middle of operating an I-Machine, she gets involved in an incident with pirates, and ends up serving as a crew member on an excavation company's spaceship.

Goro Taniguchi (s-CRY-ed, Code Geass, Active Raid) is directing the series at Sanzigen. Yousuke Kuroda (My Hero Academia, Mobile Suit Gundam 00, Gundam Build Fighters) is supervising and writing the series scripts, Kanetake Ebikawa is credited with "mechanic character design," and Hiromi Kato is adapting Range Murata's original character designs for animation. Fumihiro Katagai, Takeshi Takakura, and Takayuki Yanase are designing the mecha, and Seiichi Shirato is credited as a researcher.
Sayaka Sasaki is performing the opening theme song "ID-0," and Hironobu Kageyama is performing the ending theme song "Stellar Compass."
Other staff members include:
The anime's website features the tagline "All memories exist with 'I-Machines'."
Source: MoCa News
---