×
remind me tomorrow
remind me next week
never remind me
Subscribe to the ANN Newsletter • Wake up every Sunday to a curated list of ANN's most interesting posts of the week.
read more
News

Hayao Miyazaki's New Anime Short Debuts in July, But His Proposed Feature Film Will Not Debut in 2019 (Updated)

posted on by Egan Loo
TV special previously indicated his desire to finish feature before Tokyo Olympics
---

Studio Ghibli producer Toshio Suzuki revealed at the Niconico Chōkaigi 2017 convention on Saturday that director Hayao Miyazaki's next work, the CG short "Kemushi no Boro" (Boro the Caterpillar), will debut at the Ghibli Museum in Tokyo in July. However, after that, Suzuki firmly denied that Miyazaki can release his next proposed feature film in 2019.
The Owaranai Hito Miyazaki Hayao (The Man Who Is Not Done: Hayao Miyazaki) television special had aired on Japan's public broadcaster NHK in November. In the special, Miyazaki reported that he wants to return to making an anime feature film after the "Kemushi no Boro" short.
According to the special, Miyazaki was not satisfied with doing just the CG short, and he presented a project proposal for a feature-length film last August. Despite not officially receiving a green-light for the feature film, Miyazaki decided to start animation work on the project anyway. He planned on creating storyboards for about 100 cuts of footage.
The November television special showed the feature film's proposed schedule, in which Miyazaki suggested that the film could be done by 2019 — before the 2020 Olympics in Tokyo. However, Suzuki stated at Saturday's convention that this proposed schedule is simply impossible.
Suzuki had commented in the television special that Miyazaki would draw storyboards until he dies, and another staffer dryly noted that this would make the movie a huge hit.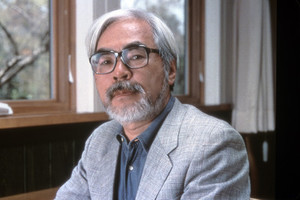 Miyazaki rose to prominence in the 1970s on such television anime series as Lupin III, Future Boy Conan, and Sherlock Hound. He directed his first feature film, Lupin III: The Castle of Cagliostro, in 1979. He then adapted the beginning of his Nausicaä of the Valley of the Wind manga into an anime film in 1984, before he and fellow director Isao Takahata founded Studio Ghibli.
With Ghibli, Miyazaki helmed the feature films Laputa: Castle in the Sky, My Neighbor Totoro, Kiki's Delivery Service, Porco Rosso, Princess Mononoke, Spirited Away, Howl's Moving Castle, Ponyo, and finally, 2013's The Wind Rises. He also co-produced Takahata's directorial efforts and directed smaller projects such as the "experimental film" On Your Mark and Ghibli Museum Shorts such as Mei and the Kitten Bus and Mr. Dough and the Egg Princess.
Spirited Away, which opened in 2001, remains the highest-earning film ever at the Japanese box office. The film won the Academy Award for Best Animated Film in 2003.
Sources: Oricon via Hachima Kikō
Update: Suzuki added that Miyazaki is drawing the storyboards for the feature film now, and has been since last July. However, Suzuki then said that Miyazaki has only drawn 20 minutes of storyboards so far, which is not a good sign of progress for the previously proposed 2019 date.
Suzuki demurred from revealing the feature's title, saying, "I can't tell you." When asked if Miyazaki can finish the film while the director is still alive, Suzuki replied, "Hmm, I don't know."
Source: Huffington Post Japan
Update 2: This week (after Suzuki made his comments on Saturday), the Ghibli Museum updated its website's screening schedule through the month of July. However, the schedule lists an earlier short, "Treasure Hunting," instead of "Kemushi no Boro," in July.
---