×
remind me tomorrow
remind me next week
never remind me
Subscribe to the ANN Newsletter • Wake up every Sunday to a curated list of ANN's most interesting posts of the week.
read more
News

Hayao Miyazaki Makes CG-Animated Short for Ghibli Museum

posted on by Jennifer Sherman
---

Studio Ghibli's Goro Miyazaki (Ronia the Robber's Daughter, Tales from Earthsea, From Up On Poppy Hill; pictured right) revealed at a talk show event on June 16 that his father, Studio Ghibli co-founder Hayao Miyazaki, is making a CG-animated short for the Ghibli Museum. Dwango telecommunications company representative and Studio Ghibli member Nobuo Kawakami (pictured below left) also appeared at the event that promoted his book Contents no Himitsu Boku ga Ghibli de Kangaeta Koto (The Secret of Content: Things I Thought About at Ghibli), which went on sale in Japan in April.
Studio Ghibli co-founder Toshio Suzuki also revealed at a lecture in Tokyo on July 10 that the short will be 10-minutes long, but added that it took three years to complete. The new work will be Hayao Miyazaki's first CG-animated work.
Goro Miyazaki said at the June 16 event, "Now, Hayao Miyazaki is trying to make a short with CG to screen at the Ghibli Museum." The younger Miyazaki also said of his father, "He gets bored when his goal is maintaining [the Ghibli Museum], so he needs things to fiddle around with." Hayao Miyazaki is known for his traditional hand-drawn animation style.

Kawakami added that the elder Miyazaki "is a person always compared to what people called geniuses." Kawakami added, "Goro was saying 'Genius is inexpensive,' right?"
Goro Miyazaki prefaced his "Genius is inexpensive" comment by saying, "Of course I respect [him]!" He added, "Normally, various people share the work from scenario to storyboard. But if it's Hayao Miyazaki, it'll be completed by one person despite doing that. On top of that, the work is fast. So Hayao Miyazaki is inexpensive. He's quite a reasonable director!"
Goro Miyazaki also talked about the time the Ghibli Museum was being constructed. "One after another, [Hayao Miyazaki] put out demands like 'wooden construction is good,' 'take out the posts here,' but, with the Building Standards Act, that's impossible. So, I argued him down one thing at a time. Right after I did that, 'Why!' he'd say. It was really awful."
In response, Kawakami said, "even though he's a realist when making animation." Goro Miyazaki then said, "When he's outside his area of expertise, soon 'Why!' comes out. His curiosity is too strong."
Hayao Miyazaki held a series of interviews with The Hollywood Reporter, The LA Times, and Variety last year to discuss his honorary Academy Award, his current projects, the state of hand-drawn animation, and the future of Studio Ghibli.
"I intend to work until the day I die. I retired from feature-length films but not from animation. Self-indulgent animation," he said at the time in reference to his short films for the Ghibli Museum. He added then that while neither CG animation or hand-drawn animation is better than the other, he fears the latter is dying.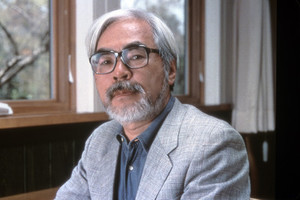 "I think talent decides everything. More than the method, what's important is the talent using it. There's nothing inherently wrong or right about a method, whether it be pencil drawings or 3-D CG. Pencil drawings don't have to go away, but those who continue to use the medium lack talent. So sadly, it will fade away," Hayao Miyazaki said last year.
Despite his retirement from feature films last year, he continues working on a multitude of projects, including a samurai manga for Model Graphix magazine, short films for the Ghibli Museum, and the Japanese cover for Westall's The Call and Other Stories.
Hayao Miazaki also told The Hollywood Reporter last year, "I do want to continue making short films such as the ones we show at the Ghibli Museum. I will continue making those. We will continue to make short films for the Ghibli Museum with a small staff of animators. But I think gradually it will quietly disappear in the future."
Kawakami became president of Kadokawa Dwango, the parent company of the Japanese media company Kadokawa and the telecommunications company Dwango, on June 23. He worked as producer for the television anime Ronia the Robber's Daughter that Goro Miyazaki directed. Kawakami also served as a "producer-in-training" at Studio Ghibli and is now a board director for the new Evangelion films' Studio Khara.
Source: Eiga Natalie via Tsk06, Yahoo! News Japan
---