News

New Mazinger Z Film Opens on January 13 in Japan

posted on by Karen Ressler
Visual revealed for film with original story
---
The official website for the upcoming Mazinger Z anime film announced on Tuesday that the film will open in Japan on January 13, 2018. The website also revealed a new visual that shows Mazinger Z's Hover Pilder: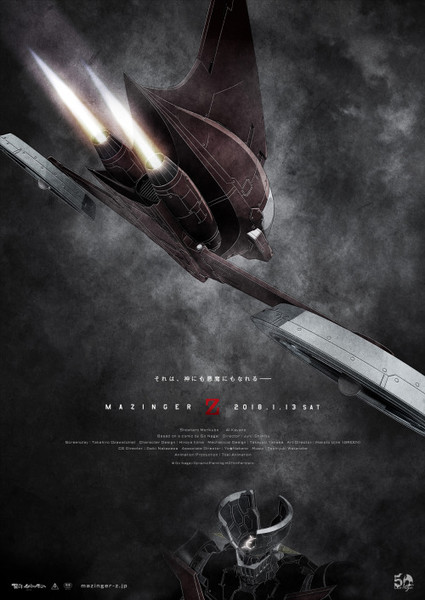 The staff previously announced that the film will have a world premiere outside Japan, before the Japanese premiere, but have not announced a date or location. Some footage from the film debuted at the Annecy International Animation Film Festival in France last month.
Toei Animation describes the completely original story:
Humanity was once in danger of its downfall at the hands of the Underground Empire, which was led by the evil scientist Dr. Hell. Koji Kabuto piloted the super robot Mazinger Z, and with help from his friends at the Photon Power Laboratory, he thwarted Dr. Hell's evil ambitions and returned peace to the world.
It's been ten years since then... No longer a pilot, Koji Kabuto has taken after his father and grandfather by starting down the path of the scientist. He encounters a gigantic structure buried deep beneath Mt. Fuji, along with a mysterious indication of life...
New encounters, new threats, and a new fate await mankind. The former hero Koji Kabuto has a decision to make about the future: whether to be a god or a demon...
This grand action film depicts the fierce battle fought by the people and Mazinger Z--once again entrusted with the future of mankind!
In the new film, Showtaro Morikubo plays the familiar main lead Kōji Kabuto, and Ai Kayano plays the heroine Sayaka Yumi. Junji Shimizu (One Piece: Episode of Chopper - The Miracle Winter Cherry Blossom, Precure All Stars New Stage: Mirai no Tomodachi) is directing off a script by ume's Takahiro Ozawa (Tokyo Toybox, Steves). Takayuki Yanase (Ghost in the Shell Arise, Mobile Suit Gundam 00) is drafting the mechanic designs, and Hiroya Iijima (Afro Samurai) is designing the characters. Green's Makoto Ujiie (Gundam franchise, EUREKA SEVEN AO) is handling the background art, and Yō Nakano is serving as assistant director.

Ichiro Mizuki is returning to the franchise to perform the film's opening theme song. Mizuki has performed theme songs for the Mazinger Z TV anime series, Mazinger Z tai Ankoku Daishōgun, Mazinger Z Vs. Devilman, Mazinger Z Vs. Dr. Hell, Great Mazinger, and Great Mazinger tai Getter Robo G - Kuuchuu Dai-Gekitotsu.
Toshiyuki Watanabe (Space Brothers, Ginga Hyōryū Vifam, The Irresponsible Captain Tylor, Ginga Kikōtai Majestic Prince) is composing the film's music. Watanabe's father, composer Michiaki Watanabe, composed the music for Mazinger Z and its movies, and Great Mazinger and its movies.
The film, tentatively titled Gekijōban Mazinger Z (Mazinger Z The Movie), is commemorating the 45th anniversary of the original Mazinger Z manga and television anime series. Toei Animation is producing the project, and Toei will distribute the film.
Source: Anime! Anime!
---