News

Boys Over Flowers Season 2 Live-Action Series Announces 'C5' Cast

posted on by Karen Ressler
---
The official website for the live-action series adaptation of Yoko Kamio's Boys Over Flowers Season 2 (Hana Nochi Hare ~HanaDan~ Next Season) manga announced five additional cast members on Saturday.
The new cast, from left to right in the back row of the image below, includes Jin Suzuki as Issha Narumiya, Marie Iitoyo as Megumi Nishidome, Tatsuomi Hamada as Kaito Taira, Mio Imada as Airi Mayu, and Keisuke Nakata as Sugimaru Eibi. All of the new cast members except Iitoyo's Megumi are members of C5, while Megumi is a popular model who transfers to Eitoku Academy to get closer to Haruto.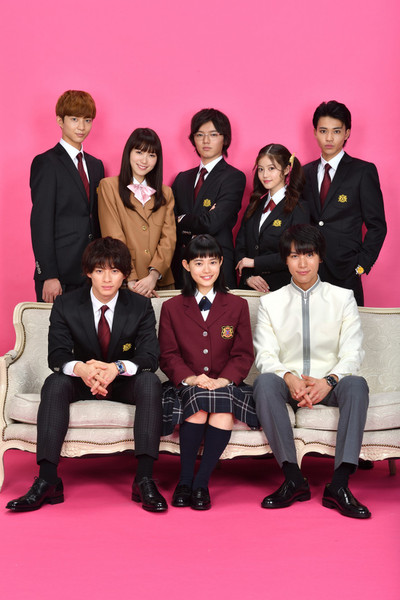 The previously announced cast members, from left to right in the front row of the image above, include King & Prince's Shō Hirano as C5 leader Haruto Kaguragi, Hana Sugisaki (Mary and The Witch's Flower, live-action Blade of the Immortal) as the protagonist Oto Edogawa, and Taishi Nakagawa (live-action ReLIFE, Kids on the Slope) Oto's fiancee Tenma Hase.
The show will premiere in April on TBS and air Wednesdays at 10:00 p.m.
The story of the manga is set at Eitoku Academy two years after the legendary F4 group graduated and follows the next generation of characters. The drama, however, will change the story to take place 10 years after the F4 graduated.

The manga debuted in Japan on Shueisha's Shonen Jump+ app in February 2015, and Shueisha published the eighth compiled book volume on January 4. Viz Media is publishing the manga as a free simultaneous digital release.
The original Boys Over Flowers manga has already been adapted into Japanese anime, a 1995 Japanese live-action film, and a more well-known 2005 Japanese television drama, the latter of which spawned a sequel and a hit film. Taiwan also remade the manga into a live-action university drama titled Meteor Garden. Crunchyroll streamed a Korean live-action adaptation in 2011. A Filipino company announced in November that it would produce its own adaptation. A stage musical adaptation ran in Japan from January to February 2016.
Kamio previously denied rumors of a supposed remake of the 2005 Japanese live-action series by TBS last October.
---