×
remind me tomorrow
remind me next week
never remind me
Subscribe to the ANN Newsletter • Wake up every Sunday to a curated list of ANN's most interesting posts of the week.
read more
News

Crunchyroll to Stream Lupin the Third Part 5 Anime

posted on by Jennifer Sherman
Series premieres on April 3
---

TMS Entertainment USA announced on Monday that Crunchyroll will stream Lupin the Third: Part 5, the fifth Lupin III anime series, simultaneously with its broadcast in Japan. Crunchyroll will stream the series in Japanese with English subtitles.
TMS Entertainment USA describes the anime:
Lupin the 3rd Part 5 (24 x 30-minute episodes) is going to reveal the secret life story of how Lupin III came to be the world's greatest thief. Lupin III, grandson of the infamous phantom thief Arsène Lupin, is a notorious thief who never fails in taking what he targets. Lupin works along with Daisuke Jigen, Goemon Ishikawa, and Fujiko Mine. Despite dealing against Inspector Zenigata, who has dedicated his life to capturing Lupin, they continue to swiftly take their targeted treasures. The series will be based in France, focusing on Lupin's roots and origin, something that has been kept a mystery for 50 years…until now!
The first episode, "Twin Tower no Shōjo" (The Girl of the Twin Towers), begins with Marco Polo, an underground shopping website where people can buy illicit items like drugs and guns. Lupin's target on this caper is the digital currency that the site earns on transactions. A key is needed to steal the digital currency, so Lupin infilitrates the Twin Towers, a massive server facility under heavy security. The key's guardian whom Lupin encounters is a genius hacker girl named Ami.
Ichiro Okouchi wrote the episode script, and Yuichiro Yano and Daisuke Sakō drew the storyboards. Keiko Oyamada directed the episode, and Youichi Takada and Yumiko Shirai oversaw the animation.
The Lupin the Third: Part 5 series will premiere in NTV's AnichU programming block on Tuesday, April 3 at 25:29 (effectively, Wednesday, April 4 at 1:29 a.m.), and it will also run on Kitanihon Broadcasting, Sapporo TV, Chukyo TV, FBS Fukuoka Broadcasting, Shizuoka Daiichi TV, YTV, TV. Shinshu Broadcasting, Nihonkai Telecasting Co., Ltd., and NTV+. It will stream on Hulu and other services listed on the website.
The upcoming anime's new characters include:

From left to right in images above:

Yuichiro Yano is returning from the fourth series to direct Lupin the Third: Part 5 at Telecom Animation Film with character designer Hisao Yokobori and musical composer Yuji Ohno. Ichiro Okouchi (Code Geass, Kabaneri of the Iron Fortress) is in charge of the series scripts. Miyuki Sawashiro (Fujiko) is singing the ending theme song "Seine no Kaze ni … (Adieu)."
The new series moves the setting to modern France. While Lupin will still use classic cars and traditional guns like the Walter P38, he will also employ the Internet, mobile devices, and other digital gadgets to take on his foes.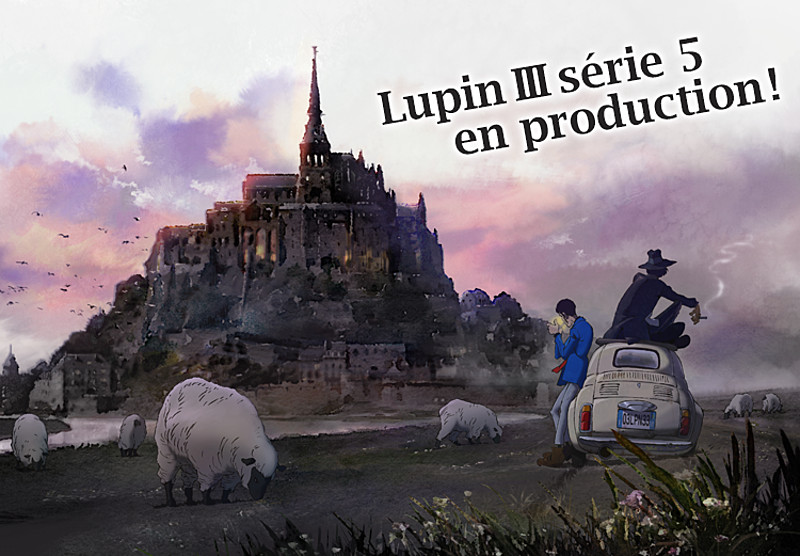 TMS and Telecom Animation Film announced at Japan Expo in Paris last year that a fifth Lupin III series is in production. In the new series, Lupin III will travel to France — the home of his grandfather and namesake, Maurice Leblanc's master thief character Arsène Lupin. The visual above depicts the country's island commune Mont Saint-Michel.
Monkey Punch's Lupin III manga about the titular thief's escapades inspired four previous television anime series, several theatrical anime films, and a near-annual string of television anime specials. It also inspired the Lupin III: The Woman Called Fujiko Mine television anime series and live-action adaptations, including 2014's live-action film.
For decades, Lupin III was renamed as Edgar in France, but starting at Japan Expo, the character is returning to his original Lupin III name in France.
Lupin III: Part IV, the first Lupin III television anime series in three decades to star the titular character, premiered in Japan in October 2015, after first premiering as Lupin III - L'avventura Italiana on Italian television on August 29, 2015. The story took place in Italy and San Marino, and it featured a blue-jacketed Lupin in his 20s.
Crunchyroll began streaming Lupin III: Part IV in January 2016. The television anime then premiered on Adult Swim's Toonami block on June 17 with an English dub. The Lupin III Italian Game special aired on January 8, 2016, and TMS Entertainment premiered it in the United States at Anime Expo in July.
---