Otakon Welcomes Brina Palencia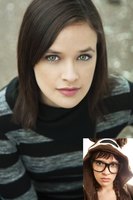 Baltimore, MD (July 9, 2012) – Otakon is pleased to welcome Voice Actor and ADR/Music Director Brina Palencia.
Brina Palencia is not actually a boy, though she has voiced many boys and has even been mistaken for a boy in real life. She has played numerous characters (male, female, alien, and cyborg) for anime and video games. Some of her anime highlights include: The Grand Cleric in Dragon Age: Origins and Dragon Age: Legend of the Seeker, Natsuki in Summer Wars, Chibitalia in Hetalia, Ciel Pahntomhive in Black Butler, Holo in Spice and Wolf, Yumi Azusa in Soul Eater, Rei Ayanami in Evangelion 1.0 and 2.0, Tony Tony Chopper in One Piece, Juvia in Fairy Tale, Clain in Fractale, and Ryoko Okami in Okami-san and Her Seven Companions.
In the land of gaming she can be heard as Mad Moxxi in Borderlands, Gerda and Paper Lad in Comic Jumper, Moogle/Dungeon Hero X in Final Fantasy Fables, the main player in Mushroom Men, Monster Tales, and The Maw, and various characters in Duke Nukem Forever, Guitar Hero III and IV, Stunt Driver 2, Ghostbusters: The Video Game, Donkey Kong Country Returns, and Street Fighter 4.
She has also served as the ADR Director for Moon Phase (eps 21-26), School Rumble, Black Blood Brothers, and xxxHOLiC (the movie and eps 1-8), Assistant ADR Director for Tsubasa: Reservoir Chronicle, D Gray Man, The Tower of Druaga, and Dragon Ball Kai, and Music Director for Sasami: Magical Girls Club, Negima!?, My Bride is a Mermaid, Rosario + Vampire, and Dragon Ball Kai.
On camera, Brina has had guest spots on the national television series The Good Guys and Chase and has worked on several independent features: www.imdb.me/brinapalencia Most recently she has been producing her own musical comedy web series, The Troubadoors - premiering Labor Day 2012 - which stars Brina's beloved online personality, Kagura4221973. More info can be found at www.facebook.com/TheTroubadoors
Otakon 2012 will be held July 27 – 29 at the Baltimore Convention Center in Baltimore, Maryland.
ABOUT OTAKON AND OTAKORP, INC.: Now entering its nineteenth year, Otakon is an annual celebration of Japanese and East Asian popular culture, and also one of the largest gatherings of fans in the United States. Otakon celebrates popular culture as a gateway to deeper understanding of Asian culture, and has grown along with the enthusiasm for anime, manga, video games, and music from the Far East. Since 1999, Otakon has been held in Baltimore, Maryland; currently, Otakon is one of Baltimore's few large, city-wide events, drawing over 31,000 people for three days each year (for a paid attendance of over 85,000 turnstile attendees). Otakon is a membership based convention sponsored by Otakorp, Inc., a Pennsylvania-based, 501(c)3 educational non-profit whose mission is to promote the appreciation of Asian culture, primarily through its media and entertainment. Otakorp, Inc. is directed by an all-volunteer, unpaid staff – we are run by fans, for fans. For more information about Otakorp, Inc., see www.otakon.com/otakorp/index.asp For more information and the latest news on Otakon 2012, see www.otakon.com/
---