Seven Seas Licenses I Was Abducted by an Elite All-Girls School as a Sample Commoner
Seven Seas Goes to the Front of the Class with License of I Was Abducted by an Elite All-Girls School as a Sample Commoner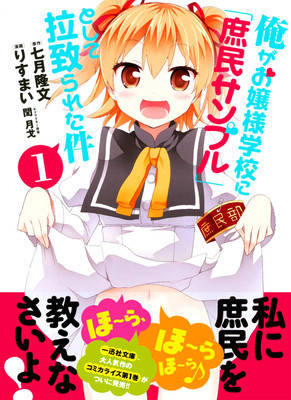 (LOS ANGELES, September 4, 2015) – Seven Seas Entertainment reveals the first of three new summer licenses with their acquisition of I Was Abducted by an Elite All-Girls School as a Sample Commoner, written by Nanatsuki Takafumi and with art by Risumai.
Deep in the forest-covered mountains is an all-girls school, attended by children from only the richest and most prestigious of families. Here, the girls are raised to be perfect young ladies, cut off from the real world to preserve their innocence and ensure that they're free from all distractions. This policy of isolation is a double-edged sword, however, for after graduation, students of the academy often struggle to adapt to a world that's totally different from their cloistered school life.
To combat this inevitable culture shock, an average teenage boy, Kagurazaka Kimito, is kidnapped by the school to provide its students with knowledge of the outside world. Forced to enroll against his wishes, Kimito must now attend classes in a place where his very manhood relies on keeping the girls happy. Can one regular guy possibly survive in a fearsome, all-female student body?
"I Was Abducted by an Elite All-Girls School as a Sample Commoner – the name's a bit of a mouthful but it's a good primer!" says Seven Seas publisher, Jason DeAngelis. "This was a series we knew we had to publish. It's a hilarious comedy that really plays on a lot of the tropes that people have come to expect and love in similar titles. With an anime adaptation on its way this Fall, we're eager to introduce English readers to the manga series next Spring."
Seven Seas will release I Was Abducted by an Elite All-Girls School as a Sample Commoner for the first time in print in North America as single volumes, each with a color insert. The first volume will be released on May 3, 2016 for $12.99 US / $14.99 CAN.
About Seven Seas Entertainment
Established in 2004, Seven Seas Entertainment specializes in bringing the best of Japanese manga to North American audiences, and producing original comics, graphic novels, and youth literature. Seven Seas is distributed by Tor/Macmillan. For more information, visit the publisher's web site
www.gomanga.com
.
---
discuss this in the forum (1 post)
|